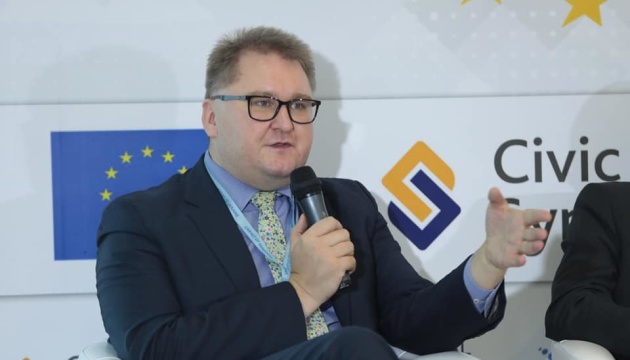 Kachka: Ukraine and EU launch dialogue on 'customs visa-free regime'
During the negotiations in the format of the EU-Ukraine Association Committee in trade configuration, the EU and Ukraine have launched a dialogue on the mutual recognition of authorized economic operators or on the preparation for the so-called "customs visa-free regime."
"We agreed to start a conversation about mutual recognition of authorized economic operators. In Ukraine, we have already approved relevant legislation, and we will work jointly on its implementation for 12 months. So, at the end of next year, we could enter the stage of starting mutual recognition negotiations. Then we will go on a formalized "track", it will no longer be a political promise. If such formal negotiations begin, we can get a "customs visa-free regime" in 2021," Deputy Minister of Economic Development, Trade and Agriculture of Ukraine, Trade Representative of Ukraine Taras Kachka told reporters in Brussels following a two-day work with experts from the European Commission, an Ukrinform correspondent reports.
He noted that such an agreement with the EU would concern Ukrainian exporters and importers, all the companies that trade with the European Union. According to the deputy minister, in practice this could mean that Ukrainian customs will be integrated into the customs system of the European Union, which may allow, for example, a Ukrainian exporter which has the status of authorized economic operator to transport the goods to Germany in the same way as it would transport the goods from Kyiv to Zhytomyr region. In this case, all the paperwork will be carried out in parallel with the course of the trading operation which will avoid delays at the borders.
"In practice, everything may start working in 2021. We have much support from the European Union, because everyone understands that this will mean lifting trade restrictions and significantly reducing all corruption risks. If the customs are integrated and work in a transparent manner, the risks of smuggling or other manipulation will decrease," Taras Kachka added.
He noted that progress had also been made in the negotiations on "industrial visa-free regime," the Agreement on Conformity Assessment and Acceptance of Industrial Products (ACAA). According to the official, the European side agreed to send a preparatory assessment mission to Ukraine already in the first quarter of next year, which will be one of the last stages of preparation for a full-fledged assessment mission which will analyze not the content of national legislation but examine the operation of the certification system in Ukraine.
ol