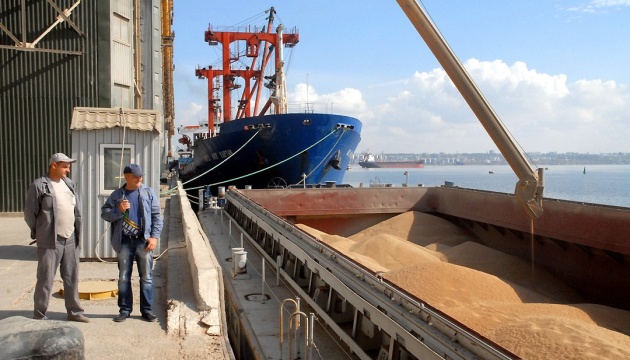 Ukraine's grain exports already exceed 50 mln tonnes
In the 2018/2019 marketing year, Ukraine increased exports of grain crops and flour by over 10 million tonnes, according to the Agrarian Policy and Food Ministry.
"According to the data provided by the State Fiscal Service, in the 2018/2019 marketing year, a record 50.4 million tonnes of grain, legumes and flour were delivered, which is 10.5 million tonnes more compared with 39.9 million tonnes exported in the previous year," reads the report.
The ministry noted that in the reporting marketing year, 49, 995 tonnes of grain and legumes were exported, including 15,579 tonnes of wheat and wheat and rye blend, 3,692 tonnes of barley, 87,800 tonnes of rye, 29,822 tonnes of corn, 815,000 tonnes of other grain and legumes.
In addition, in the 2018/2019 marketing year, Ukraine exported 301,281 tonnes of flour including the wheat flour or wheat and rye blend totaling 299,897 tonnes, and flour of other grain crops totaling 1,384 tonnes.
As reported, in 2018, Ukraine gathered the largest crop of grains for the years of its independence - 70.1 million tonnes.
iy