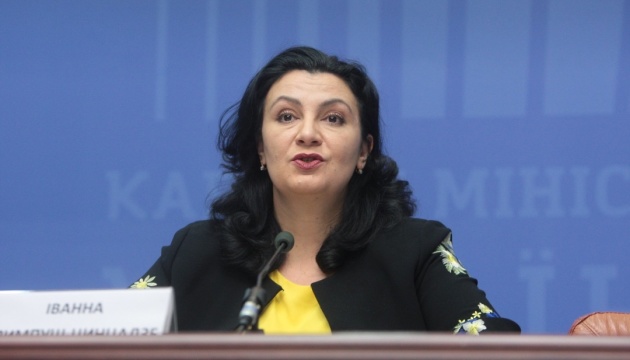 Vice PM Klympush-Tsintsadze: Ukraine may get IMF tranche this year
Ukraine has every chance to fulfil the necessary conditions under the International Monetary Fund Stand-By Arrangement for getting the second tranche, but this requires the interaction of the government, the president and the parliament.
"I met with representatives of the IMF. They are going to make a visit [to Ukraine] late May to check the implementation of the current program [of cooperation with the IMF] and our readiness to receive the second tranche," Vice Prime Minister of Ukraine Ivanna Klympush-Tsintsadze said during her visit to Washington, D.C.
While talking with the IMF representatives, nobody said that Ukraine may not receive any of the two tranches scheduled for 2019, the Ukrainian official noted.
"Nobody expressed such a view, but it will depend on how we cope with the structural benchmarks laid down in our agreements. And many things are pegged to the trilateral cooperation between the government, the president and the parliament," Klympush-Tsintsadze said.
In this regard, the Vice Prime Minister noted that not much time is left actually. "I think that it is important for us to make the biggest possible number of decisions, requiring among other things the participation of the parliament, approximately until the end of June - the beginning of July," the official said. In this case, according to her, this "gives us a chance that we will fulfil conditions of the memorandum and receive the next tranche."
The Vice Prime Minister stressed that the further cooperation of Ukraine with other international financial organizations and the ability to pay off loans on time depends on continued cooperation with the IMF.
ol