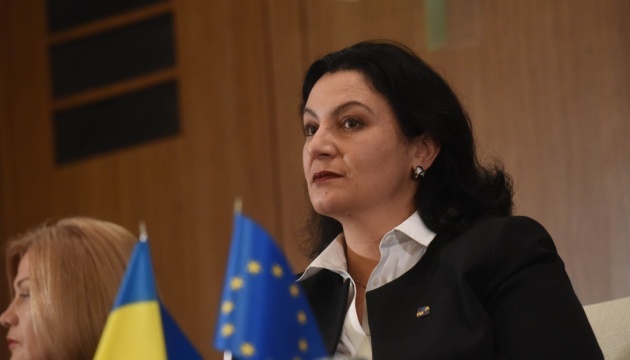 Ukraine, Belgium discuss trade and economic partnership, military cooperation
Deputy Prime Minister for European and Euro-Atlantic Integration of Ukraine Ivanna Klympush-Tsintsadze in Brussels met with Deputy Prime Minister - Minister of Foreign Affairs of Belgium Didier Reynders.
The sides discussed the Ukrainian-Belgium bilateral dialogue, trade and economic partnership, military cooperation and interaction within the framework of international institutions, the Government portal reported on Monday.
While discussing trade cooperation, the deputy prime minister noted that in 2018 the trade turnover between Ukraine and Belgium increased by 18% compared to 2017 and amounted to over USD 1 billion. She added that such a revival of trade relations was the result of the Deep and Comprehensive Free Trade Agreement (DCFTA) between Ukraine and the EU. The parties positively assessed the results of the fourth meeting of the Joint Commission on Trade, Economic and Financial Cooperation. They noted that the next practical step should be the organization of economic and trade missions of the two countries.
Ivanna Klympush-Tsintsadze praised accession of Belgium to the UN General Assembly Declaration on the commemoration of the 85th anniversary of Holodomor and urged the representatives of the Belgian Government to endorse the resolution on the recognition of the Holodomor of 1932-1933 as a genocide of the Ukrainian people.
The sides discussed prospects of the Ukrainian-Belgium cooperation and counteraction to Russia's aggression against Ukraine in the context of non-permanent membership of Belgium of the United Nations Security Council.
Apart from that, the parties spoke about fruitful cooperation in the international arena. Ivanna Klympush-Tsintsadze praised Belgium's stance on supporting the United Nations resolutions on Ukraine's independence and territorial integrity and condemning Russia's aggression in Ukraine. Didier Reynders stressed the importance of completing the investigation into the MH17 disaster.