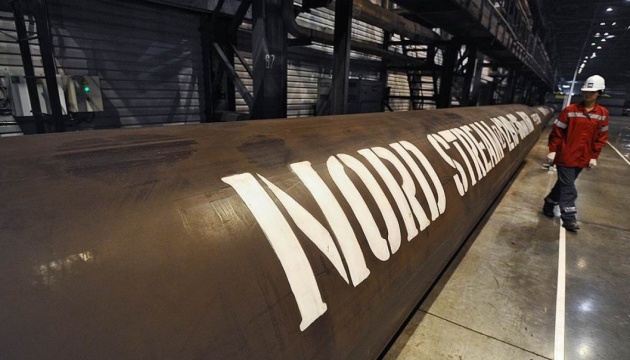 EU amendments on Nord Stream 2 in line with Ukraine's requirements - Foreign Ministry
The approval of amendments to the EU Gas Directive sets the legal framework for the functioning of the Nord Stream 2 gas pipeline according to EU norms, but does not remove security risks and can make Russia's behavior even more aggressive, Ukraine's Deputy Foreign Minister for European and Euro-Atlantic Integration Olha Zerkal has reported on Facebook.
"First and foremost, the EU's law will apply to gas pipelines from third countries, including to Nord Stream 2. This was and remains the key clause of the proposed amendments. It was opposed by Germany, Austria, and a number of other member states. Finally, they agreed to it. [...] However, the lion's share of amendments concerns how to ensure that this corresponds to the requirements of the EU legislation for gas pipelines that start in another jurisdiction, that is, outside the EU," Zerkal said.
She explained that the directive defines how a gas pipeline operator and regulator should act to ensure that Nord Stream 2 complies with EU energy law requirements. In particular, the regulator of an EU member state can consult with the Russian authorities, from which Nord Stream 2 originates, and only Germany, as an exception, can get permission to sign an intergovernmental government with Russia.
Zerkal emphasized that the issue concerns only the regulation of the economic aspects of the operation of the gas pipeline. "States continue to resolve on their own all other issues related to Nord Stream 2. For example, environmental protection or security. This is especially important to Denmark, which still has to decide whether to allow or prohibit the construction of Nord Stream 2 in in its territorial waters, and Denmark has enough arguments to refuse," the deputy minister said.
She also said that as part of the trilateral dialogue it was decided how the European Commission could ensure effective control over the observance of EU law by gas pipelines originating from third countries.
"So, we have a legal framework in which the functioning of Nord Stream 2 is possible only if it is in line with EU law. This is what Ukraine demanded. We constantly emphasized that Nord Stream 2 should not have a competitive advantage from what may not comply with EU law. The next task is to ensure the implementation of these amendments," Zerkal said.
At the same time, she noted that the adoption of these amendments does not remove the security risks of Nord Stream 2. In this context, the diplomat recalled Russia's very aggressive reaction to attempts to regulate Nord Stream 2, up to saying "we will complete Nord Stream construction and will sort things out with Ukraine."
"There is a risk that the spread of EU requirements to Nord Stream 2 will make the behavior of the Russian Federation even more aggressive. This requires increased pressure on Russia, including through possible sanctions," Zerkal said.
In conclusion, she noted that the French-German consensus on amendments to the directive had been perceived by many as a betrayal, although it was, in fact, a step towards a new consensus in the EU as a whole that Nord Stream 2 has no political privilege and should be rigorously assessed in terms of regulatory, economic and security issues.
"This is an important shift, which also takes into account our interests. It only acquires its shape, and none of the risks have been eliminated. But this means that our position is getting stronger," the deputy minister said.
Representatives of the European Parliament, the European Council and the European Commission late on Wednesday, February 13, in Strasbourg agreed on draft amendments to the EU Gas Directive, according to which the Nord Stream 2 gas pipeline, as well as all gas transmission systems from third countries entering the territory of the European Union, must work according to the laws and regulations of the EU.