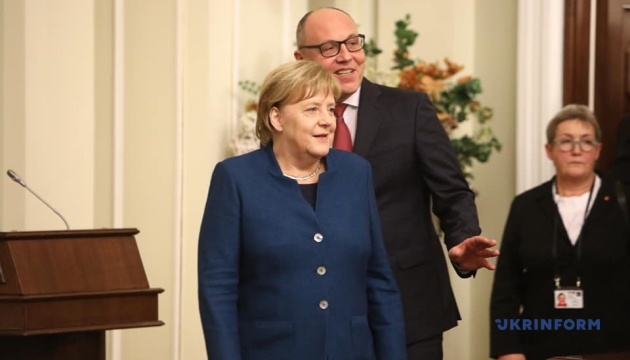 Merkel: Ukraine should remain reliable gas transit country
Ukraine should remain to be a reliable gas transit country.
German Chancellor Angela Merkel made the relevant statement at the meeting with Verkhovna Rada Speaker Andriy Parubiy and the heads of parliamentary groups and factions of the Verkhovna Rada of Ukraine, an Ukrinform correspondent reports.
"As for the Nord Stream 2. We know that Ukraine rejects this project. I am less critical of this project and advocate for the guarantees for Ukraine and for the fact that Ukraine should keep its role of a transit country," Merkel said, adding it is about the creation of a "transit agreement."
In turn, Verkhovna Rada Speaker Andriy Parubiy stressed that the construction of the Nord Stream 2 might lead to the shift of balance and security risks not only to Ukraine but the entire European space.
Parubiy urged the German Chancellor to study in more detail the arguments of the Ukrainian side regarding this project.
"We have repeatedly experienced the Russia's energy blackmail first-hand. We know how Russia is trying to use energy to influence the political processes in the country," Parubiy underscored.
As reported, the Nord Stream 2 is a gas pipeline project which aims to carry more Russian natural gas under the Baltic Sea direct to Germany, bypassing Ukraine and Poland. Russian gas monopoly Gazprom owns 51% of the project's shares. Russia wants to build two strings of the gas pipeline. The project opponents, including Poland, the Baltic countries, Ukraine, Moldova, the United States and Denmark, argue that Nord Stream 2 will increase the EU's dependence on Gazprom.
ol