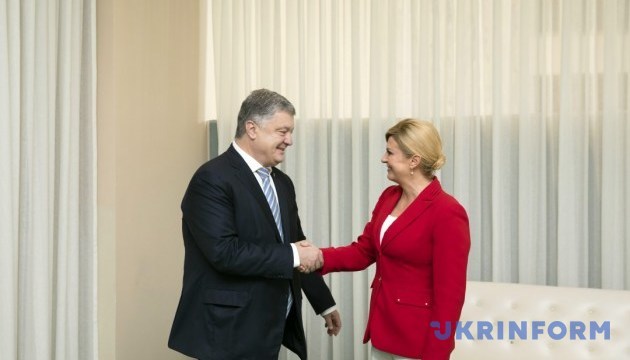 Ukrainian, Croatian presidents discuss energy security
Ukrainian President Petro Poroshenko has thanked his Croatian counterpart Kolinda Grabar-Kitaroviс for supporting Ukraine's sovereignty and territorial integrity.
The meeting between the two presidents was held at the 73rd session of the UN General Assembly in New York on Wednesday, the press service of the head of state reported.
"The Ukrainian president thanked the Croatian side for the consistent support of Ukraine's sovereignty and territorial integrity, as well as for Zagreb's significant humanitarian and expert assistance to our state," reads the statement.
In addition, the parties discussed a wide range of bilateral relations and interaction in international organizations.
"Petro Poroshenko expressed his hope for the continuation of an active bilateral political dialogue between Ukraine and Croatia in order to realize the significant potential of Ukrainian-Croatian partnership in all spheres of bilateral cooperation," the report said.
According to the press service, special attention was paid to the issue of energy security on the European continent.
Poroshenko invited Grabar-Kitaroviс to pay an official visit to Ukraine.