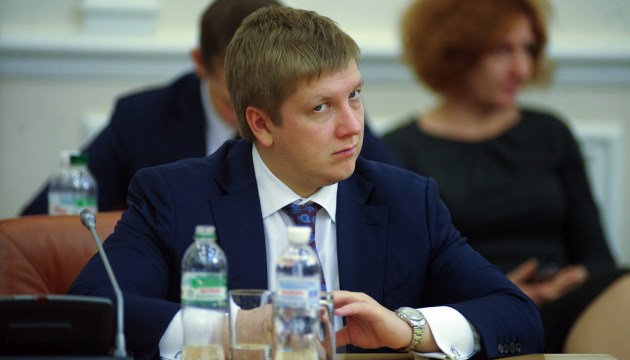 Ukraine accumulates over 15 bcm of gas - Kobolev
Ukraine is ready for the heating season, and it has already accumulated 15 billion cubic meters (bcm) of natural gas in its storage facilities.
Naftogaz CEO Andriy Kobolev told this to journalists on Thursday, an Ukrinform correspondent reports.
"We are ready for the heating season. There are more than 15 billion cubic meters of gas in storage facilities. The volume is growing. We will reach approximately the same level of gas as it was last year. I cannot comment on the price of gas, because it is a question to the Ukrainian government, which is currently negotiating with the IMF," Kobolev said.
Ukrinform reported earlier, with reference to Energy and Coal Industry Minister Ihor Nasalyk, that gas prices for industry and for the population are likely to be aligned after negotiations with the International Monetary Fund.
In accordance with the clause on the imposition of special duties on natural gas market subjects for securing public interests in the process of functioning of the natural gas market, which was approved by Cabinet of Ministers of Ukraine resolution No. 187 of March 22, 2017 (as amended), NJSC Naftogaz of Ukraine supplies natural gas to household consumers at a price of UAH 4,942 per 1,000 cubic meters (not including VAT).
While signing contracts with industrial consumers and other business entities from August 30, 2018, Naftogaz offered natural gas at a price of UAH 10,208 to UAH 11,115 per 1,000 square meters (not including VAT), depending on the volume of purchase and payment terms.
op