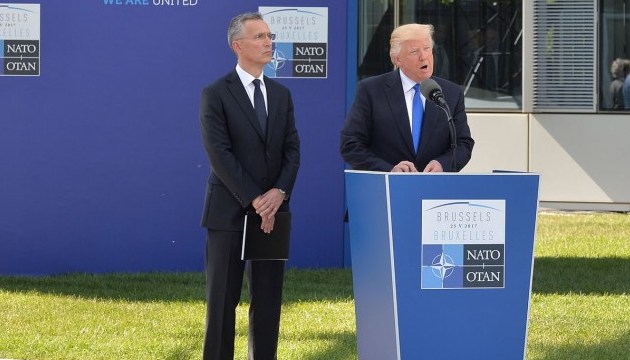 Trump: It's inappropriate when Germany pays billions to Russia for gas, but we have to protect it
U.S. President Donald Trump has said he did not understand the policy of some NATO countries developing cooperation with Russia in the field of energy.
He stated this at a meeting with NATO Secretary General Jens Stoltenberg in Brussels on Wednesday, according to an Ukrinform correspondent.
"I think it's very sad when Germany makes a massive oil and gas deal with Russia. You're supposed to be guarding against Russia, and Germany goes out and pays billions and billions of dollars a year to Russia. So we're protecting Germany, we're protecting France, we're protecting all of these countries, and numerous of the countries go out and make a pipeline deal with Russia where they're paying billions of dollars into the coffers of Russia. So we are supposed to protect you against Russia, but they're paying billions of dollars to Russia. And I think that's very inappropriate," Trump said, speaking in particular about Germany's cooperation with Russia in the field of energy.
During a discussion with the NATO secretary general, the U.S. leader repeatedly raised the issue of Europe's dependence on Russian energy exports.
Stoltenberg, in turn, noted that NATO nations have differences on some issues, but despite this, the allies remain strong while maintaining unity.
He also recalled that even during the Cold War NATO countries traded with the former Soviet Union.
At the same time, Trump said that trade is one thing, and energy is "a whole different story."
The debate took place amid the U.S. leader's discontent with inappropriate spending of European allies on defense.
The issue of equitable distribution of the budgetary burden among NATO member states will be one of the main issues on the agenda of the NATO summit that takes place in Brussels on July 11-12.
Russia plans to build the Nord Stream 2 gas pipeline to Germany bypassing Ukraine across the Baltic Sea. Some 51% of shares belong to Russia's Gazprom. Russia wants to build two lines of the gas pipeline (up to 55 billion cubic meters of gas per year). The Baltic States, Poland, Ukraine and the United States actively oppose the project. In particular, on April 5, the Verkhovna Rada of Ukraine called on the world not to support the construction of the Russian Nord Stream 2 gas pipeline.
op