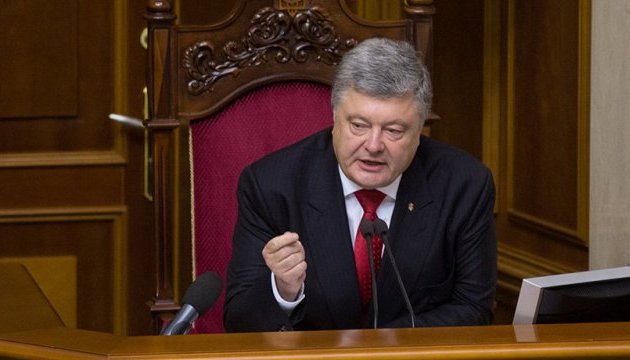 Ukraine to get gas from Azerbaijan via new gas pipeline - Poroshenko
Ukrainian President Petro Poroshenko has said that due to the newly built gas pipeline TANAP Ukraine will be able to diversify gas supplies through Bulgaria and Romania.
He said this on Tuesday, June 12, while speaking at the official ceremony to launch the Trans-Anatolian Natural Gas Pipeline (TANAP) in Turkey, which was broadcast live on Ukrainian TV channels.
"Ukraine supports this project with absolutely all possible resources, and we thank you for it. Today we agreed that with great pleasure Ukraine would diversify energy supplies and receive gas through this gas pipeline via Bulgaria and Romania. Thank you so much for that," Poroshenko said.
The head of state assured that Ukraine would always support cost-effective European initiatives on diversification of sources of energy supplies.
"My country will fully use this project to ensure the competitiveness of the entire EU. We are counting on Turkey and Azerbaijan in terms of securing Ukraine's energy resources through alternative ways. I am convinced that in the near future we will find maximum opportunities to attract natural gas from the Caspian basin, from Azerbaijan not only to Ukraine, but also to the entire region that is connected to Ukraine through the system of gas pipelines," Poroshenko said.
At the same time, he recalled that this gas pipeline is a key element of the Southern Gas Corridor and stressed that due to its launch, "the whole region will be able to have deeper safety and broader energy prospects."
Poroshenko also said that the TANAP project contributes to the energy security of Europe, the diversification of sources of energy supplies to Europe and its competitive ability.
The TANAP gas pipeline is an Azerbaijani gas pipeline running through Turkey to Europe. It is intended for gas transportation from Azerbaijan's Shah Deniz field.
op