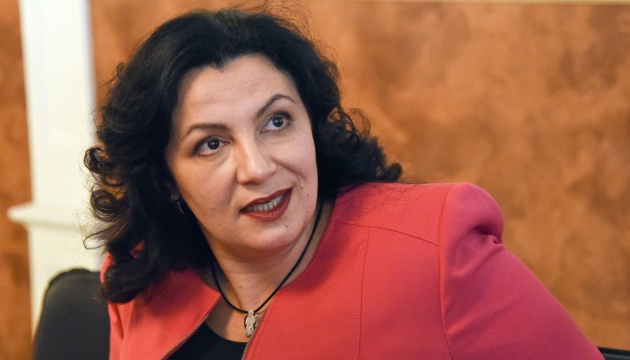 Ukraine counts on Croatia's assistance in energy security - Klympush-Tsintsadze
Ukraine maintains its interest in the Baltic, Adriatic, Black Sea Initiative put forward by the Croatian president and believes that joining it meets its objectives, Ukrainian Deputy Prime Minister for European and Euro-Atlantic Integration Ivanna Klympush-Tsintsadze has said.
She stated this at a meeting with Croatian Prime Minister Andrej Plenkovic in Zagreb, where she is on a working visit, according to the government portal.
"Ukraine is one of the largest countries in the Black Sea region and has close historical, political and economic ties with all member states of this initiative. We believe that Ukraine's joining the initiative is in line with its interests and objectives, in particular, in the energy component. I hope that Croatia will support our desire to join this initiative," Klympush-Tsintsadze said.
She also welcomed plans by the Croatian government to implement large-scale projects aimed at ensuring energy security in Central and Eastern Europe and expressed Ukraine's willingness to discuss the possible format for Ukraine's participation in these projects, in particular, the construction of a LNG terminal on the island of Krk and the Ionian Adriatic Pipeline.
Klympush-Tsintsadze praised the positive dynamics of economic cooperation between the two countries, especially in industry and energy. She called for the participation of Croatian enterprises in Ukrainian projects and vice versa.
Plenkovic, in turn, said he was satisfied that Ukraine was ready to take part and contribute to the LNG terminal project. "This is a strategic task for Croatia, but I think that this can also be a strategic thing for you, as this project can ease your energy security situation," he said.
He also noted that Croatia currently has a large demographic deficit, in particular, the shortage of skilled workers. According to him, the relevant ministries of the Ukrainian and Croatian sides have already begun work on an agreement on cooperation in this area. "This can be a win-win situation. I think that such an arrangement can be very positive for both countries," Plenkovic said.
op