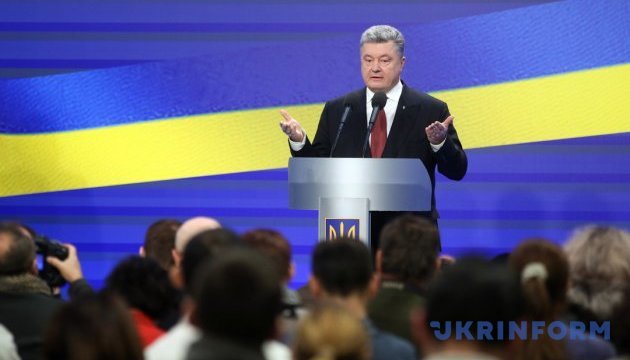 Poroshenko threatens Gazprom with new lawsuit in Stockholm
Gazprom cannot terminate gas contracts with Naftogaz unilaterally, and such statements can only be explained by the Russian company's reluctance to fulfill its obligations.
Ukrainian President Petro Poroshenko said this at a meeting on energy security on Friday.
"The contracts between Naftogaz and Gazprom do not foresee the unilateral right to terminate them, and similar statements by Gazprom may only be explained by the reluctance to fulfill their contractual obligations. I am sure that if this happens, then NJSC Naftogaz will definitely apply to the [Stockholm] arbitration court to get additional compensation for damage caused by Gazprom's irresponsible actions," he said, while commenting on Gazprom's announcement of the termination of contracts with Naftogaz.
"We welcome statements by our international partners about Gazprom's actions. They are well aware of who is responsible for trying to create a crisis," Poroshenko added.
He also said that Ukraine had confirmed its status as a reliable country ensuring gas transit, and Gazprom, unfortunately, had again tried to apply gas supply as a mechanism of political pressure. "It won't work! I am sure that the contract with Gazprom will not be terminated, and there is no threat to transit," Poroshenko said.
At the same time, the president assured Ukrainians that "the energy situation in the country is under control."
Poroshenko pointed to incorrect information that the Stockholm arbitration court had based its rulings on the gas transit contract on the allegedly difficult economic situation in Ukraine.
"This is definitely not true. The tribunal explained its decision by the fact that NJSC Naftogaz of Ukraine demands compensation for losses due to the failure by Gazprom to fulfill its contractual obligations on 110 billion cubic meters," the presidential press service quoted Poroshenko as saying.
He stressed that "these actions by Gazprom are now emphasizing its unreliability as a supplier." He also said that a meeting with ambassadors of foreign countries accredited in Ukraine was initiated on March 1. The Ukrainian Foreign Ministry timely informed Ukraine's partners about the steps that will be taken, he said.
Gazprom CEO Alexei Miller said earlier that after the Stockholm arbitration court's decision not in its favor Gazprom would initiate the termination of contracts for the supply and transit of gas with Naftogaz.
Naftogaz said that it had not yet received any documents from Gazprom about the cancellation of contracts for the sale and supply of gas.
In February, Naftogaz made a prepayment to Gazprom, waiting for the beginning of gas supplies from March 1. However, the Russian company returned the full amount and refused to supply gas.