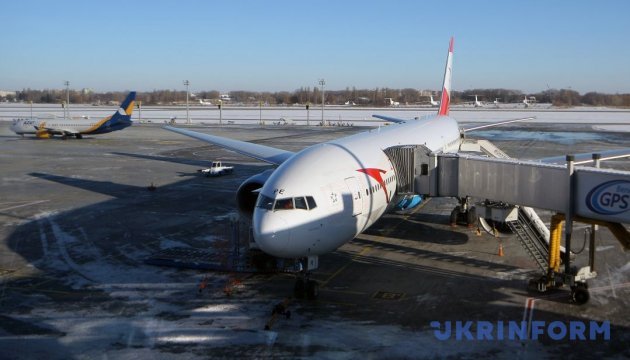 Boryspil Airport posts record-high profit of UAH 4 bln in 2017
In 2017, state-owned enterprise Boryspil International Airport posted a record-high net profit of UAH 4 billion, which is almost half a million more compared with the previous year.
data provided by the airport.
"According to the 2017 results, Boryspil International Airport saw a net profit totaling UAH 4,097 million. These figures are record-high for the aviation enterprise," reads the report.
The enterprise also reported that profit before taxes amounted to UAH 2,114 million, which also became a record.
For a comparison: income of the enterprise made up UAH 3,617 million in 2016, UAH 3,081 million - in 2015, UAH 1,823 million in 2014. Profit before taxes totaled UAH 1,697 million - in 2016, UAH 859 million - in 2015, while in 2014 - the airport posted losses totaling UAH 138 million.
Also, the airport's expenses amounted to UAH 1,983 million in 2017. A year earlier, these figures made up UAH 1,920 million, and in 2015 – UAH 2,222 million.
Last year, wages and social benefits to employees for the first time became the largest item of airport's expenditures. Thus, the average wage at Boryspil Airport was UAH 12,240 in 2017, while in 2016 – it was set at UAH 9,080.
For the development of airport's infrastructure, UAH 457 million was allocated, of which UAH 245 million was assigned for major construction and UAH 154 million - for the acquisition of fixed assets.
In addition, the enterprise paid UAH 1,907 million in taxes to the state budget in 2017. In particular, the airport paid UAH 1,251 million in dividends, UAH 281 million in income tax, UAH 247 million in taxes on personal income and social security, and UAH 128 million in other payments. In 2016, the total amount of taxes paid to the state budget made up UAH 1,560 million, including UAH 804 million in dividends.
As earlier reported, Boryspil Airport in 2017 took the third position among the leaders in the classification ranking of Airports Council International (ACI Europe), providing a dynamic passenger traffic growth of 22.1% within the group of European airports servicing from 5 to 10 million passengers per year.
iy