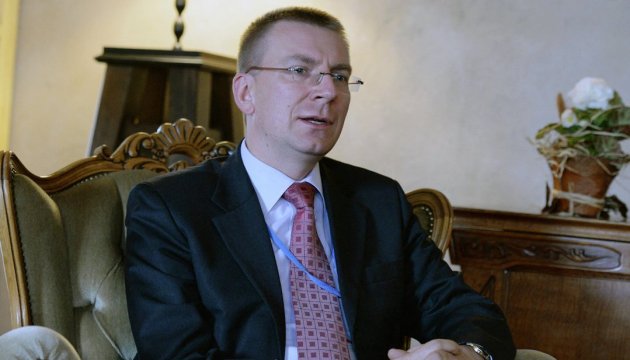 Ukrainian diplomat gets note due to Latvia's inclusion in list of offshore zones
The Latvian Foreign Ministry has handed over an official note to Ukrainian Charge d'Affaires Alisa Podoliak, urging Ukraine to take the necessary measures to exclude Latvia from the list of offshore zones, Latvian Foreign Minister Edgars Rinkevics has told the LETA news agency.
"Minister [Rinkevics] noted that work had already been carried out to resolve this problem, including with the participation of the Finance Ministry. Latvian and Estonian ambassadors to Ukraine are working together on this issue, because Estonia was also included in this list," reads the report.
According to Rinkevics, this situation has arisen due to the incorrect interpretation of the new tax legislation in Latvia, which foresees a zero rate of tax on reinvested profit. This system cannot be considered as tax-free, since dividends are taxed in Latvia.
Earlier, the Latvian Foreign Ministry stated that the inclusion of Latvia in the list of offshore zones by Ukraine was a mistake. Representatives of the Latvian Foreign Ministry contacted the Ukrainian government to discuss measures to resolve the problem.
It was reported that a similar problem in economic relations between Ukraine and Estonia had already been discussed on January 25 during a telephone conversation between Ukrainian Prime Minister Volodymyr Groysman and Estonian Prime Minister Juri Ratas. Groysman said that this list was not a "list of offshore zones." Following the talks, the prime ministers agreed to instruct the finance ministries and the tax authorities of the two countries to establish interaction and hold, if needed, the necessary consultations so as to resolve possible misunderstandings.
The Estonian Finance Ministry agreed that the list is not about offshore zones, but about the "countries which Ukraine advises to pay special attention to transfer pricing agreements." The Estonian Finance Ministry said that it was currently working in close contact with the Ukrainian side, so that Estonia in Ukraine could not be included in the list of suspected states for doing business.
op