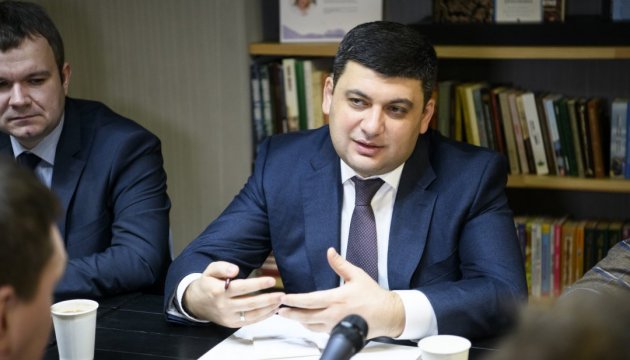 Government to promote development of German business in Ukraine - Groysman
Germany is a key global partner of Ukraine, so the government will promote the development of German business in the country, Prime Minister Volodymyr Groysman has said.
He said this at a meeting with representatives of leading German companies operating in Ukraine, according to the government portal.
"We appreciate the contribution of German business to the development of the national economy. We appreciate Germany's leadership in our internal reforms, in support of our territorial integrity. We feel that Germany is a reliable partner for Ukraine, and we are interested in developing bilateral relations," Groysman said.
For their part, representatives of German business noted that the Ukrainian government had managed to overcome the economic crisis and this increased the optimism of business circles. Last year, mutual trade grew by 21.5%, and the major sectors of trade were the light and food industry. Investors were also interested in the construction industry.
German Ambassador to Ukraine Ernst Reichel said that now the reputation of Ukraine as an investment platform was important. "That's why we also pay much attention to Ukraine's achievements in combating corruption, judicial reform, cooperation with international financial institutions, and so on. But I want to assure you that the German government will support Ukraine," the diplomat said.
Groysman thanked for support and drew attention to the fact that economic development and the creation of a favorable business environment were the number one priority for the Cabinet of Ministers and that the steps taken in 2017 had proved it.
"I want to remind you that we launched a system of electronic VAT refund. This allowed us to remove from the agenda the issue of abuse in this area. We paid off tax debts accumulated over the past few years and no longer accept the practice of paying taxes in advance. We are moving on the issue of customs reform. We have taken the course for large-scale deregulation, and here we are seeking to enter the top 40 in the Doing Business rating. This year we will change the system of state supervision and control so that no officials could influence business," Groysman said.
He said that in this year several government institutions promoting the attraction of capital and technologies to Ukraine would continue to operate in Ukraine this year and that quite ambitious programs supporting the agricultural sector, especially livestock production, and the development of natural gas production would be implemented. In the near future, the Cabinet of Ministers awaits the adoption of legislative decisions on large-scale privatization on the basis of English law and the creation of an anti-corruption court. "We are committed to further cooperation with the International Monetary Fund, and we will fully support our economic development," he said.
According to the report, during the meeting, the sides discussed a number of issues and problems faced by German business in Ukraine, and outlined areas for further cooperation.
op