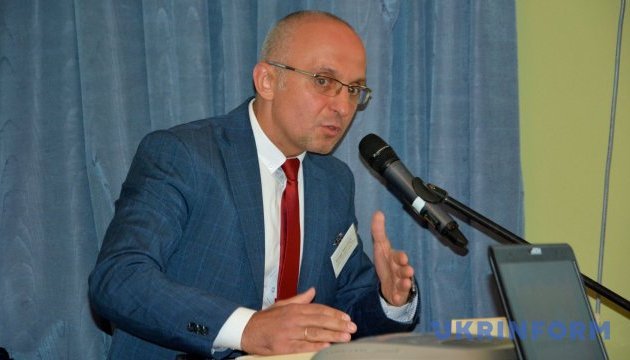 Savchuk presents Ukraine's achievements, prospects in renewable energy
Head of the State Agency on Energy Efficiency and Energy Saving of Ukraine (SAEE) Serhiy Savchuk presented Ukraine's latest achievements in renewable energy and prospects for cooperation at the 8th session of the Assembly of the International Renewable Energy Agency (IRENA) in Abu Dhabi (the UAE), the SAEE's media liaisons department has reported.
"The Ukrainian government has walked a long path to join the IRENA Statute. The respective law of Ukraine, No. 2222-VIII, which developed by the State Agency on Energy Efficiency and Energy Saving, has recently been adopted by parliament and signed by Ukrainian President Petro Poroshenko," Savchuk said, adding that Ukraine's Foreign Minister Pavlo Klimkin has recently signed a respective document on Ukraine's accession to IRENA.
After joining IRENA, Ukraine will be able to increase green investments, receive cheap loans for green projects, and develop joint mechanisms for financing the preparation and implementation of projects.
According to Savchuk, the potential of wind energy development in Ukraine is one of the largest in Eastern Europe. In addition, the country has significant opportunities for widespread implementation of biomass and waste energy projects.
At the event, Savchuk had an opportunity to discuss the trends of clean energy in the world and in Ukraine with Director of the Energy Community Secretariat Janez Kopac and President of the Energy Watch Group, former German MP Hans-Josef Fell.
The event was attended by over 1,200 representatives from 150 countries.
According to Adnan Amin, Director-General of IRENA, humanity enters a new era of energy transformation, and renewable energy is becoming an important driver of economic growth, job creation and social development, as well as addresses problems of climate change and reduction of harmful emissions.
According to IRENA, more than $1 trillion has been invested in renewable energy around the world since 2013. To date, almost ten million new jobs have been created in this area.
op