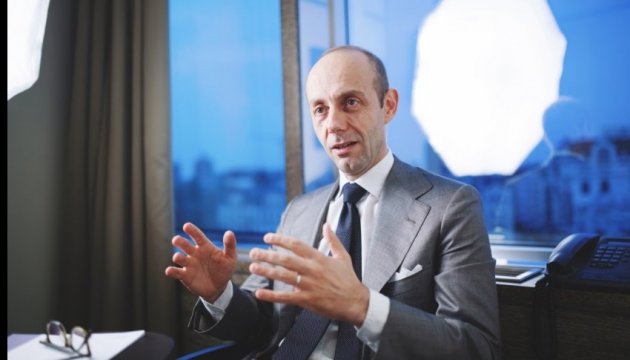 Rothschild calls greatest achievement and biggest failure of Ukrainian reforms
Ukraine has significantly advanced in reforming its economy, but complete modernization will take several more years, Giovanni Salvetti, managing director for CIS at Rothschild Inc., has said.
"[Ukraine has advanced in reforms] significantly, but several more years are needed for the introduction and implementation of key reforms for a complete modernization of the Ukrainian economy," he said in an interview with the Ukrainska Pravda online newspaper.
Salvetti said that the major successes of the Ukrainian government were the reform of the energy sector and Naftogaz, as well as automatic and transparent VAT refunding.
"The most effective are the reforms of the energy sector and Naftogaz. They were certainly sensitive to the population, which is now forced to pay high tariffs, but reform was needed to ensure transparency and modernization in this sector. This reform effectively eliminated one of the traditional and most topical spheres of corruption, which was associated with shadow gas trading schemes. Secondly, automatic and transparent VAT refunds immediately helped resolve one of the major problems for exporters, and also killed, probably, the second-biggest sphere of corruption. These are two major sources of corruption, which have now been neutralized," he said.
He also noted that it was extremely important to clean the banking system, as it is the basis of greater transparency of the banking sector and a key condition for the development of the economy.
In addition, the ProZorro system became a major achievement for certain areas of public procurement.
Salvetti also noted the pension reform, which has recently been adopted by the Ukrainian parliament.
Speaking about promising reforms, a representative of the Rothschild banking family called decentralization of the state budget, which could become very effective for the use of resources and investments in the regions.
At the same time, the greatest failure of Ukrainian reforms, in his opinion, is the political struggle and the use of populism by some political parties.
"Such a dramatic situation, which has been observed in Ukraine in recent years, is aimed at gaining popularity, rather than solving urgent problems. The implementation of radical reforms requires a high degree of responsibility and unity between political forces, if they really take care of the future of their country," he said.
op