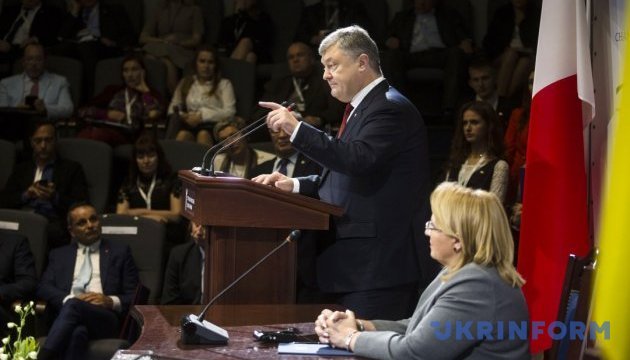 President Poroshenko: Ukraine ready to offer Malta certain projects on privatization
President of Ukraine Petro Poroshenko has said that the visit of President of the Republic of Malta Marie-Louise Coleiro Preca opens a new page in bilateral relations based on an active dialogue and mutually beneficial projects.
The Ukrainian president stated this in his speech at the Ukraine-Malta business forum, the president's press service reported on Tuesday evening.
President Poroshenko also stressed he has good reasons for a firm belief in a very promising future of the Ukrainian-Maltese trade and investment partnership. According to the results of the first half of 2017, the trade in goods and services between Malta and Ukraine increased by 64%. "This is the result of effective contacts between the Presidents, Governments, the effective work of the Prime Ministers and the ministries," he added.
Also, Petro Poroshenko stressed that Ukraine is ready to present Malta certain offers on the issue of privatization. In particular, in the field of energy, infrastructure projects, ports, chemical industry, etc. He also added that SMEs in Ukraine could be interesting for Maltese investments.
The Head of State also listed a number of reforms currently being implemented in Ukraine: the energy reform, which is one of the most successful; continuation of modernization of infrastructure; decentralization reform.
"We are ready to resume privatization. The draft law of Ukraine on privatization of state property is coordinated with the position of the IMF, submitted to the parliament. This makes procedures more transparent and faster, as well as more secure for investors," he informed.
President Poroshenko called the attraction of $ 3 billion by placing Eurobonds for a 15-year period another symbol of increasing trust of investors. According to him, about 400 foreign investors participated in the agreement, which was the first issue of Ukraine since 2014.
President of Malta Marie-Louise Coleiro Preca, in turn, noted the importance and efficient of the reforms in Ukraine.
"We believe that in a favorable business environment, it is time when we should act decisively and help our people and businesses establish cooperation," the President of Malta said, noting that this is related to SMEs as well.