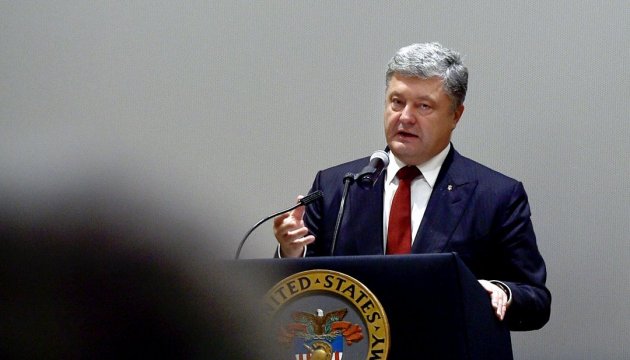 $3 bln in sovereign bonds to serve as basis for reform - president
Ukraine's sovereign bonds worth $3 billion will serve as a financial basis for further reform in Ukraine, which will create conditions for greater investment, President Petro Poroshenko has said.
The head of state said this at a meeting with international investors in New York on Monday, September 18, an Ukrinform correspondent reports.
"Ukraine has entered the sovereign bond market for the first time over the past three years, for the first time since the beginning of Russia's aggression against our country. Before that Ukraine borrowed and just accumulated debts. Today, we are making reforms, and today's borrowing is a financial cushion, a financial platform, a foundation for further reform," Poroshenko said.
He said that the decision to place $3 billion in Ukrainian sovereign bonds for a 15-year period had become Ukraine's breakthrough into the sovereign bond market since the beginning of Russian aggression.
"Ukraine has entered the borrowing market and borrowed three billion dollars, for a record period of 15 years. Ukraine has never borrowed such an amount. We have never borrowed for a period of 15 years. This is an extremely positive assessment by investors of reforms that are being conducted in Ukraine," Poroshenko said.
"This is a saving of state budget funds for servicing foreign debt," he said.
Poroshenko thanked investors, as well as partners from the IMF, the World Bank, the International Finance Corporation, and the EBRD, which "together with Ukraine have carried out these reforms, and today the world recognizes their effectiveness." In this context, he specified that the issue concerned energy sector reform, deregulation, and new steps to improve the business climate, including preparations for the privatization process.
"What's extremely important is that it cheapens any borrowing, and Ukrainian business entities are entering the external market," Poroshenko said.
On Monday, September 18, Poroshenko said that the process of placing Ukrainian sovereign bonds worth $3 billion had been completed.
op