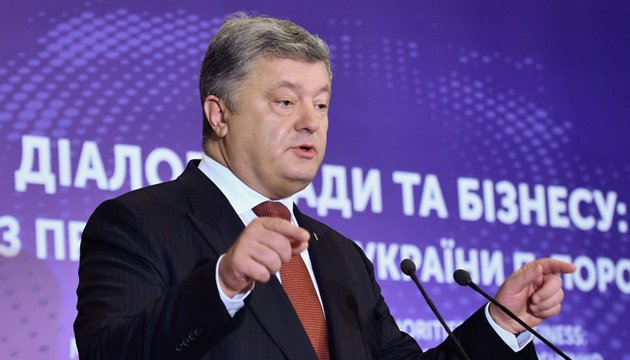 Poroshenko: Energy carriers will no longer be instruments for blackmailing Ukraine
President of Ukraine Petro Poroshenko states that the energy sector of Ukraine has changed radically and the energy carriers are no longer used as instruments of political pressure.
The President said this during a meeting with representatives of domestic and foreign business, the press service of the Head of State reports.
"Nobody has the right to blackmail us after the first American ship [came to Ukraine] yesterday pursuant to my agreements with U.S. President Donald Trump on the energy security of our state," Poroshenko said.
In turn, Xcoal CEO Ernie Thrasher handed a symbolic gift to the President and the Prime Minister of Ukraine – the first American coal brought to "Pivdennyi" seaport yesterday from Pennsylvania, USA.
"The energy independence of our state has been secured. In 2016, we learned to live without Russian gas, today we proved to the whole world that we can live without it. Gas is no longer a political noose, but an ordinary commodity," the Head of State stressed.
Overnight into September 13, the Ocean Ambitious ship, carrying 62,000 tons of US steam coal for the thermal power plants of PJSC Centrenergo, moored to the handling terminal of the Pivdenny sea commercial port.
While paying the visit to the United States in June this year, President Petro Poroshenko discussed with the US leadership the opportunities for deepening cooperation in the energy sector, including the supply of American coal to Ukraine from the state of Pennsylvania. Poroshenko said then that Ukraine would purchase at least 2 million tons of coal from the US.
ol