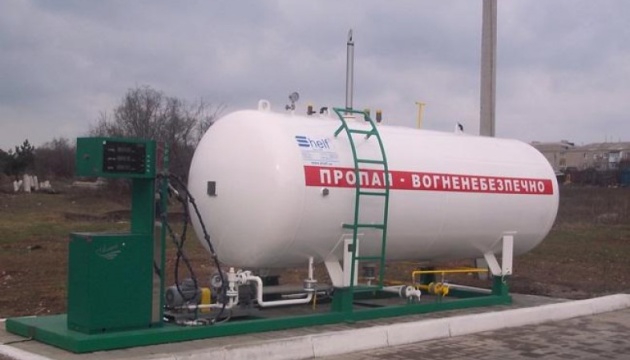 Liquefied gas should fall in price in September - Poroshenko
The price of liquefied gas in Ukraine will fall in the second half of September this year, and those responsible for violations will be called to account, President Petro Poroshenko has said.
He said this at a press conference as part of his working visit to Lviv region on Wednesday, an Ukrinform correspondent reports.
"We have spoken with the government, and respective instructions have been given to the concerned ministries, producers. We have to set up our own production of liquefied gas, and those blocked volumes from Russia should be offset by Ukrainian production. We are waiting for the results within the next two or three weeks, and the task of reducing the price of liquefied gas should be fulfilled in the second half of September. Those who committed violations should be brought to account," Poroshenko said.
In addition, he said that the respective task had also been given to the National Police and the Prosecutor General's Office.
"In the near future, you will be able to find out the results, because, according to my instructions, the public should definitely be involved in the verification," he said.
He noted that a sharp increase in the price of autogas could not be acceptable and remain without the reaction of the authorities, since a significant part of drivers use LPG vehicles.
"I want to emphasize that we have held the necessary consultations with the government. I spoke with the prime minister, and we have clear approaches," Poroshenko said, noting that the Antimonopoly Committee "should take all measures to prevent monopoly and a rise in prices."
"All gas suppliers will be checked. If the AMC finds the fact of receiving high profits, those who committed that will be fined and the situation will be returned to normal," he said.
He said that "in a hybrid war, when Russia was a major supplier of liquefied gas, decisions were made to suspend or restrict supplies, just as it was with natural gas." "We must learn to live in a hybrid war," Poroshenko said.
The price of liquefied gas in Ukraine has increased sharply over the past month. Market operators predict a rise in prices to UAH 17-18 per liter.
Prime Minister Volodymyr Groysman instructed concerned ministries, the Antimonopoly Committee, the State Fiscal Service and law enforcement agencies to study the situation on the liquefied gas market, identify the causes of an uncontrolled rise in prices for autogas and take measures to reduce fuel costs and maintain competition on the market.
op