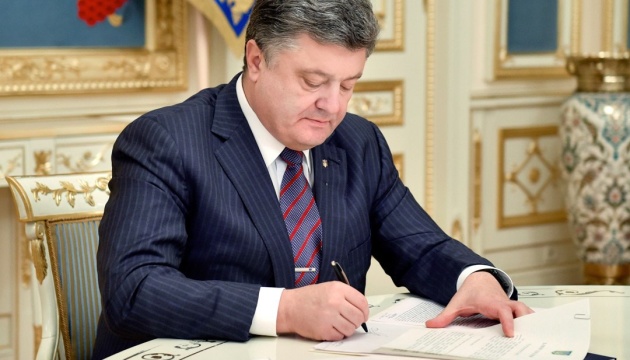 President signs amendments to state budget for 2017
Ukrainian President Petro Poroshenko has signed a law introducing amendments to the law on Ukraine's state budget for 2017, the press service of the head of state has reported.
The president noted the importance of the document, as a significant part of over-fulfilled budget funds will be used to support the socially vulnerable sections of the population and a number of priority programs.
"The key areas of the use of this money are extremely important. The first to receive funds from over-fulfillment of the budget are the poorest people. These are people who get subsidies. We must ensure that their expenditures are fully financed," Poroshenko said.
The president noted that he had proposals to encourage the recipients of subsidies that save energy for the introduction of energy saving technologies in their homes.
"Those who save electricity and those who save heat will be able to get the money they can spend on utility services or on energy efficiency, and this initiative has received support from the government," he said.
Poroshenko also noted the success of an experimental program, in which the over-fulfillment of revenues from customs services is used for the construction of roads in the regions.
"Such a number of roads have never been built in Ukraine's history, and such funds have never been used for the development of the road network. This is also in the hands of the regional authorities, and this is a result of the decentralization policy," he said.
He stressed that more than UAH 16 billion had been used in addition to the funds provided by the state budget for the construction and reconstruction of roads.
The third major direction is the financing of medicine in the villages, Poroshenko said.
"This is good news for the peasants. Deputies listened to my proposals and allocated four billion hryvnias for the development of rural medicine," Poroshenko said, adding that this money will be directed from the special fund of the state budget.
According to the report, First Deputy Prime Minister Stepan Kubiv thanked the president for supporting state budget amendments.
"The society and all sectors of the population were expecting [these amendments], and this is a confirmation of economic growth both in the first and in the second quarter of 2017," he said.
According to him, the government has already presented macroeconomic figures and budget policy for 2018-2020, which "strengthens the investment attractiveness of our state and says that an investment and innovative approach to the economy becomes a priority for economic achievements."
As Ukrinform reported, the Verkhovna Rada, Ukraine's parliament, approved amendments to the state budget for 2017 on July 13. The respective bill was supported by 226 lawmakers.
op