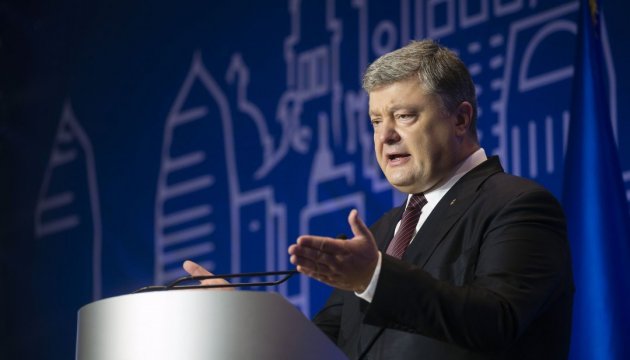 Poroshenko proposes building ammunition plant
Ukrainian President Petro Poroshenko has submitted a proposal for the construction of an ammunition plant in Ukraine.
He said this at a meeting of the National Security and Defense Council of Ukraine on Monday, the press service of the head of state reported.
"We agreed with representatives of law enforcement agencies and the government and decided to spend a significant part of extra budget funds on the defense and security sector. It is currently extremely important for us to develop the Ukrainian Armed Forces and other law enforcement agencies, and I am confident that this currently meets the priorities that we have in ensuring the defense of our state," Poroshenko said.
The head of state suggested setting up the production of ammunition using domestic raw materials.
"I have put forward a proposal for the construction of an ammunition plant and the introduction of new technologies in full compliance with NATO standards, which will ensure compatibility of ammunition produced with the main calibers," he said, noting that UAH 1.4 billion is to be allocated for this purpose.
"This will make it possible not only to assemble ammunition, but also to ensure the production of ammunition from domestic raw materials. Accordingly, we must restore the capacities that Ukraine had before the beginning of occupation by the Russian Federation, and I see this as one of the first priorities," Poroshenko said.
Among other things, UAH 1.6 billion will be used to purchase the latest weapons and military equipment. "We will set up the production of modern armored vehicles, including Oplot tanks, the production of the newest missiles and other positions that will allow us to significantly improve and strengthen the capabilities of our defense," he said.
In addition, he set the task of strengthening the systems of electronic warfare, the system of the newest modernized unmanned aerial vehicles, and sending part of the funding for anti-sniper systems, as sabotage groups currently present a serious threat to the defenders of the sovereignty and integrity of Ukraine.
"I am sure that these funds should be allocated now, because it significantly improves the effectiveness of the units, including those who are on the field of battle. De facto, we will have the opportunity to see, hear and oppose Russian aggression," he said.