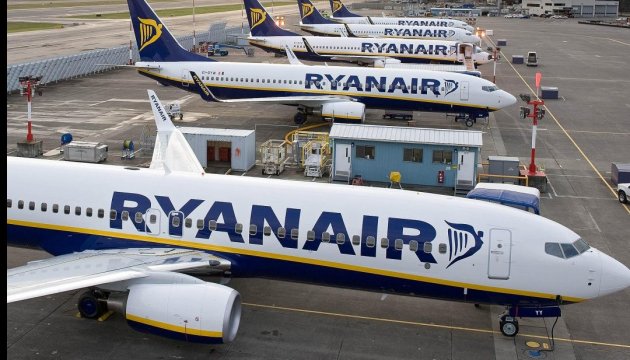 Ryanair refuses to enter Ukrainian market - statement
Irish low-cost airline Ryanair has cancelled its planned entry into the Ukrainian market, according to a statement released by the company.
"Ryanair, Europe's No.1 airline, today (July 10) announced that it has cancelled its planned entry into Ukraine following Kyiv airport's failure to honor a growth agreement reached at the Ministry of Infrastructure with airport officials and the current Airport Director General, Mr. Riabikin, in March of this year," reads the statement.
The airline noted that Boryspil Airport had instead chosen to protect high fare airlines (including Ukraine International Airlines).
"As a result, Ryanair has no choice but to cancel 4 new Kyiv routes and 7 new Lviv routes, which will result in the loss of over 500,000 passengers and 400 jobs," the company said.
The statement also notes that Ryanair sincerely apologizes to the many customers who have booked low fare flights to and from Ukraine and that all of them will be contacted by email and refunded for their cancelled flights.
"We regret also that Lviv Airport has fallen victim to Kyiv Airport's decision," Ryanair's Chief Commercial Officer David O'Brien said.
Earlier, the director general of the Boryspil Airport, Pavlo Riabikin, said that the airport, as a state-owned enterprise, did not benefit from a contract with Ryanair and declared political pressure. He also denied a conspiracy with the Ukrainian monopoly airline.
In the spring of 2017 Ryanair announced the start of services in Ukraine.
New flights from airports in Kyiv and Lviv were to be conducted in the autumn of 2017. Ukraine was the 34th destination of the company.
Ryanair was expected to conduct flights from Kyiv to London, Manchester, Stockholm and Eindhoven. Flights from Lviv were to be performed to Eindhoven, London, Berlin, Wroclaw, Memmingen, Krakow and Budapest.
op