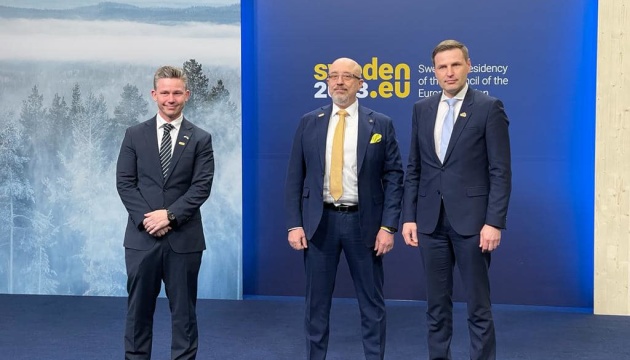 Reznikov on visit to Sweden: Ukraine expecting faster ammunition supplies
Ukraine expects faster ammunition supplies within the framework of the "tank coalition" from the available stocks of European armies.
"There were fruitful discussions on strengthening the 'tank coalition'. The movement on this track is constant. The most important result is the joining of efforts to provide the Armed Forces of Ukraine with ammunition, in particular, for the successful operations of the military command. I informed the partners in detail about the structure of our needs. The EU will allocate additional resources for these needs. We also expect faster ammunition supplies from the existing stocks of the European armies," Defense Minister Oleksii Reznikov posted on Facebook following his working visit to Sweden.
Following the informal meeting of the EU defense ministers, which was held at the initiative of the High Representative of the European Union for Foreign Affairs and Security Policy Josep Borrell and within the framework of the Swedish presidency of the Council of the European Union, we can confidently talk about the reliable support from European partners at all levels which will keep growing, the minister noted.
"Another Russian attack on peaceful Ukrainian cities confirmed our main priority – to strengthen the defense of the sky, including to get the capacity to destroy ballistic missiles as soon as possible. We expect progress in this area," Reznikov wrote.
In addition, several agreements were reached with Minister of Defense of Sweden Pål Jonson, some of which will be made public ahead of the 10th Ramstein format meeting.
Reznikov also met with Peter Hultqvist, former defense minister and incumbent Chairman of the Swedish Committee on Defense, and Prime Minister of Sweden Ulf Kristersson, during which the parties discussed the current situation in Ukraine and ways to strengthen security in Europe.
Reznikov also met with Minister of Foreign Affairs of Sweden Tobias Billström and discussed effective governance reforms in the Ministry of Defense of Ukraine, as well as Ukraine's European integration in the context of Sweden's presidency of the Council of the EU.
At the meeting with Supreme Commander of the Swedish Armed Forces Micael Bydén, the issues of training of Ukrainian soldiers and Ukraine's combat experience were raised.
Photo: Oleksii Reznikov, Facebook