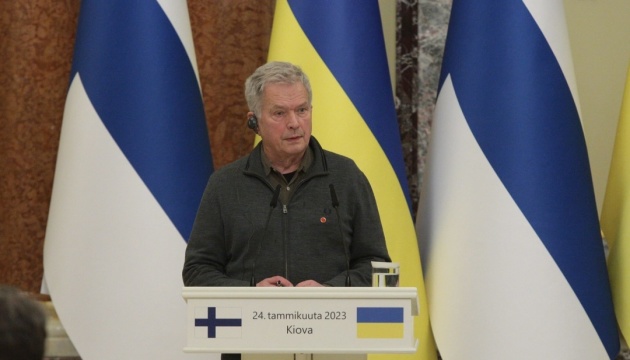 Finland discussing creation of Leopard tank unit in Europe for Ukraine
Finland is discussing the possibility of forming a powerful unit of Leopard tanks in Europe for Ukraine.
"We have to keep in mind that the ongoing discussion about tanks is about a larger unit. Taking one tank here and another there is not enough. There should be a powerful unit in Europe. We [Finland] are discussing the possibility of creating such a unit..., we are considering options," President of Finland Sauli Niinistö said at a joint press conference with President of Ukraine Volodymyr Zelensky in Kyiv, an Ukrinform correspondent reports.
Niinistö noted that his country would contribute to the creation of such a unit.
He noted that Finland is one of the few countries in Europe that call up citizens to the armed forces, has experienced instructors and infrastructure. According to the President, the country must remain vigilant and careful: "Among the countries that have Leopard tanks – more than 10 in Europe – Finland has a unique position, because we are the only EU member state, but not a NATO member state, that has the longest border with the Russian Federation in Europe after you [Ukraine]."
At the same time, President Zelensky expressed his conviction that the resilience of Ukraine is a key prerequisite for the security of each of Russia's neighbors and the whole of Europe, and therefore global security.
"Ukraine's resilience is a key prerequisite for the security of each of Russia's other neighbors and the whole of Europe and, therefore, global security. It is in this perspective that we and our partners perceive the situation and act on this basis, in particular with our friends from Finland," Zelensky said.
The President thanked the leadership and the people of Finland for their "constant, principled" support, saying, in particular, that Finland has already provided 12 packages of security assistance and cooperates in the restoration of Ukrainian energy after the attacks of Russian terrorists.
"When Ukraine will gain victory, it will be a victory of every nation that values freedom and the guarantee of non-recurrence of such invasive aggression," the Head of State emphasized.
As reported, the heads of defense departments of more than 50 countries did not reach an agreement on the supply of Leopard tanks to Ukraine at the 8th Ukraine Defense Contact Group meeting on January 20. German Defense Minister Boris Pistorius said that a decision could be made in the near future.
ol