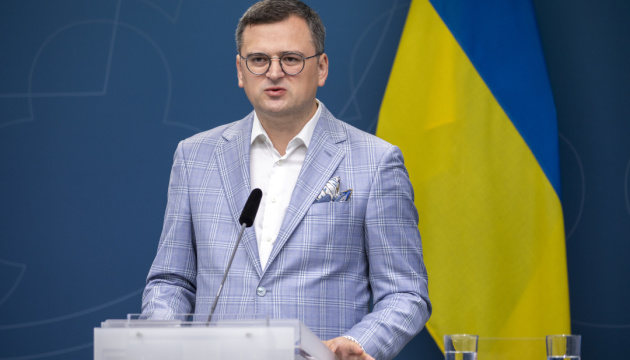 Kuleba calls on Berlin to lift ban on Patriot, Leopard 2 supplies to Ukraine
Minister of Foreign Affairs of Ukraine Dmytro Kuleba calls on Germany to demonstrate leadership and provide Ukraine with Leopard 2 tanks, Patriot air defense systems, and Marder infantry fighting vehicles.
During an online briefing today, Kuleba thanked Germany for the decision to strengthen Ukraine's air defense and to transfer additional seven Gepard anti-aircraft guns. At the same time, according to the minister, Ukrainian diplomats continue to make efforts in negotiations with the German side regarding the transfer of Leopard 2 tanks and Patriot air defense system to Ukraine.
"The German side has already demonstrated leadership in the supply of Iris-T air defense missile systems and other important weapons. We also count on leadership in the transfer of Patriot systems, Leopard 2 tanks, and Marder infantry fighting vehicles. There can be no taboos in matters of providing Ukraine with weapons to protect all of Europe from the armed aggression of the Russian Federation," the minister believes.
He also once again called on partners to strengthen military support for our country and emphasized that today it is especially critical to help Ukraine protect itself from Russian missile attacks.
"There is no need to look for excuses and postpone key decisions. It's time to close the sky over Ukraine, to do it with the help of air defense systems which should arrive in Ukraine in sufficient quantity," Ukraine's top diplomat emphasized.
He noted that strengthening the Armed Forces remains a key priority of the Ministry of Foreign Affairs. "The previous weeks have been particularly effective in meeting the needs of the Armed Forces in air and missile defense systems, heavy artillery systems, MLRS, armored personnel vehicles, as well as ammunition for all these types of weapons," Kuleba said.
He noted that the delivery of previously announced aid packages from at least two dozen countries is underway.
"These are primarily the USA, the UK, Australia, Greece, Denmark, Estonia, Spain, Canada, Latvia, Lithuania, the Netherlands, Germany, Norway, Poland, Slovakia, the Czech Republic, Finland, France, and Sweden," the minister added.
Moreover, following the Meeting of NATO Ministers of Foreign Affairs in Bucharest, the Allies announced the transfer of 155mm artillery, ammunition, and armored vehicles to Ukraine.
Kuleba expressed special thanks to the U.S. Department of Defense for signing a $1.2 billion contract with Raytheon Technologies for the production of six NASAMS systems for Ukraine.
He expressed hope for receiving military aid from Bulgaria and speeding up its provision by Italy.
As reported, on December 5, the air defense forces of Ukraine shot down more than 60 Russian missiles out of more than 70 launched at Ukraine during another enemy attack.
ol