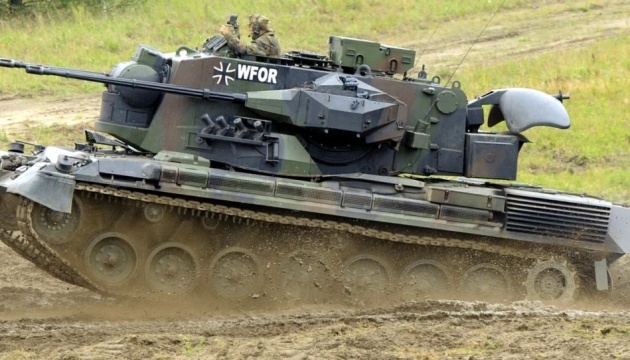 Germany plans to send 16 bridge-laying tanks BIBER, 10 anti-aircraft guns GEPARD to Ukraine
The self-propelled anti-aircraft guns GEPARD will be sent to Ukraine from the warehouses of industrial enterprises, the issue of their equipment will still be resolved.
" GEPARDs have not been in the Bundeswehr service for many years, which means that there is no need to replace them, they will be provided from the industry stocks," German Defense Ministry Spokesman David Helmbold told journalists in Berlin, Ukrinform reports.
At the same time, he did not specify when this equipment would be transferred to the Armed Forces of Ukraine.
Commenting on the possibility of equipping them, the spokesman noted that there were various possibilities and systems, for example, to install the air defense or other equipment on them. Specific issues will be discussed with allies within NATO, Helmbold noted.
Earlier, following the Ukraine Defense Contact Group meeting, German Defense Minister Christine Lambrecht said that "the second batch of anti-aircraft guns GEPARD will be delivered soon." In addition, according to her, bridge-laying tanks BIBER should be sent to Ukraine in the near future.
The minister also noted that Germany would supply Ukraine with a "winter package": electric generators, thermal clothing, food and field equipment.
The German Defense Minister also mentioned the training program for the Ukrainian military which will be implemented together with the Netherlands. The range of training courses in the coming months will be expanded taking into account the needs of the Armed Forces of Ukraine. In this context, Lambrecht announced a new initiative: mine clearance measures.
"This shows that we support Ukraine very widely, very intensively," Lambrecht emphasized.
According to the list "Military support for Ukraine" on the website of the German government, Germany plans to supply Ukraine with 16 bridge-laying tanks BIBER, 10 anti-aircraft guns GEPARD, as well as ammunition for them.
ol