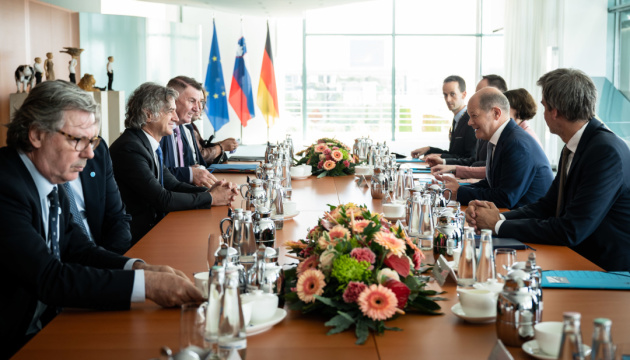 Germany, Slovenia want to speed up supply of tanks to Ukraine
German Chancellor Olaf Scholz and Slovenian Prime Minister Robert Golob discussed the issue of providing Ukraine with heavy weapons during negotiations in Berlin.
"We discussed the issue of the joint transfer of weapons to Ukraine... We are considering various options for resolving the situation," Golob said at a press conference after the negotiations, an Ukrinform correspondent reports.
He recalled that Slovenia had already sent a batch of heavy weapons to Ukraine but the further process was "somewhat delayed", partly due to the change of government in the country. The Prime Minister expects the process to speed up.
Scholz, for his part, also expressed his belief that the countries "will achieve rapid progress together." The Chancellor pointed out the readiness of partners to comprehensively support Ukraine – politically, economically, humanitarianly, militarily, as well as with the help of sanctions against the Russian Federation.
As reported, Slovenia sent 35 infantry fighting vehicles to Ukraine in June.
Slovenia planned to transfer 30 T-72 tanks to Ukraine, receiving new equipment from Germany as part of the so-called circular deliveries. However, Berlin offered only 15 Leopard-2A4 tanks. Negotiations have been going on for over two months.
Photo credit: @Bundeskanzler
ol