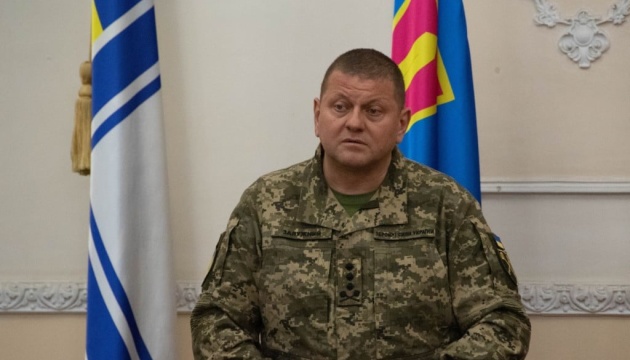 Ukraine not planning military offensive in Donbas – army chief
The leaders of the criminal organizations "DPR" and "LPR" are deliberately misleading the residents of the temporarily occupied territories of the Donetsk and Luhansk regions about the Ukrainian Armed Forces allegedly planning an attack, but Ukraine will never launch an offensive in the east.
That's according to a statement made by Commander-in-Chief of the Ukrainian Armed Forces Valeriy Zaluzhny, Ukrinform reports.
"Militants supported by the Russian Federation continue to escalate the situation by deliberately misleading residents of the temporarily occupied territories. Statements by the leaders of the occupation administrations about an alleged offensive by the Ukrainian Armed Forces and forceful scenarios for the liberation of the temporarily occupied territories are not true," Zaluzhny said. He said that OSCE representatives also confirm this.
Zaluzhny reiterated that Ukraine's military-political leadership is not planning or conducting any offensives in eastern Ukraine, as the only acceptable option for the deoccupation of people and territories is political-diplomatic. He also noted that an offensive in the Donbas would inevitably lead to civilian casualties, so such scenarios are not even being considered.
"I appeal to the residents of the temporarily occupied territories - do not believe the lies of the occupation authorities! They are using you to escalate the situation in order to start another wave of bloodshed. Reports about sabotage groups from the [Ukrainian] Joint Forces allegedly planning to blow up chlorine at the treatment facilities in Horlivka are not true at all," he said.
He also stressed that Ukraine remains committed to the principles and norms of international law and human morality, and for the leadership of the state, unlike the occupiers, the lives of Ukrainian citizens in the country and abroad are of the highest value.
Even on these days, when the militants are committing numerous ceasefire violations, Zaluzhny stressed, the Ukrainian Armed Forces return fire only in the event of a threat to the lives of personnel or civilians. "We do not succumb to provocations. We are not firing on residential areas where the militants have cynically placed their positions," he said.
He also stressed that it is extremely difficult to refute all the fakes that are being spread by the enemy propaganda. Therefore, Zaluzhny called on everyone to trust only official sources and believe in the Ukrainian Armed Forces.
Russian media reported earlier that "DPR" leader Denis Pushylin had called on Donetsk residents to evacuate to the Rostov region due to an alleged offensive by the Ukrainian Armed Forces.
op