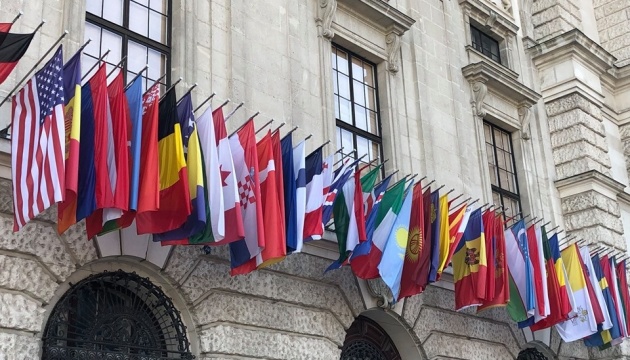 US at OSCE: Ukraine has inherent right to self-defense
Ukraine has an inherent right to self-defense under the UN Charter, which the United States will continue steadfastly to support.
"I remind this Permanent Council that Ukraine has an inherent right to self-defense, as reflected in Article 51 of the UN Charter, which the United States will continue steadfastly to support," Ambassador Michael Carpenter, U.S. Permanent Representative to the OSCE, said at the Permanent Council meeting on February 3, an Ukrinform correspondent reported.
According to Carpenter, the United States is always prepared to pursue diplomacy but "some things remain non-negotiable." "The United States does not, nor will we ever, recognize Russia's purported annexation of Crimea. We will not dilute our commitments to sovereignty, territorial integrity, and the inviolability of borders. Nor will we cease raising our concerns about Russia's abuses in Crimea or end our calls for Russia to release all the Ukrainian political prisoners it currently holds," the U.S. Ambassador stressed.
He added that Crimea-related sanctions would remain in place "until Russia returns full control of the peninsula to Ukraine."
As for eastern Ukraine-related sanctions against Russia, they will remain in place until Russia fully implements its Minsk commitments.
Carpenter underscored that Russia continued to threaten the security of not just Ukraine, but Europe as a whole, with its ongoing military escalation, unannounced military exercises, increasingly hostile rhetoric, and false narrative that Ukraine is planning some unspecified provocation with the help of security assistance from NATO member countries.
This is demonstrably false, the diplomat said. Meanwhile, Russia has arrayed more than 100,000 troops along the Russia-Ukraine border, in Crimea, and in Belarus.
"There are more than 100,000 Russian troops near Ukraine's borders, supported by scores of aircraft, an unprecedented amount of ammunition for a supposed 'exercise', and standby medical supplies such as blood banks. Indeed — everything necessary for one country to attack another," said the U.S. Permanent Representative to the OSCE.
However, open-source satellite imagery shows no sign of a Ukrainian troop build-up. The OSCE SMM has not reported any significant change in government-controlled territory regarding Ukrainian troop or equipment movements.
"We urge Russia to choose the path of diplomacy and de-escalation. Russia outlined its concerns and proposals in writing, and the United States has also delivered a response to Moscow in writing. We made clear that there are foundational principles that we are committed to uphold and defend – including Ukraine's sovereignty and territorial integrity," Carpenter said.
ol