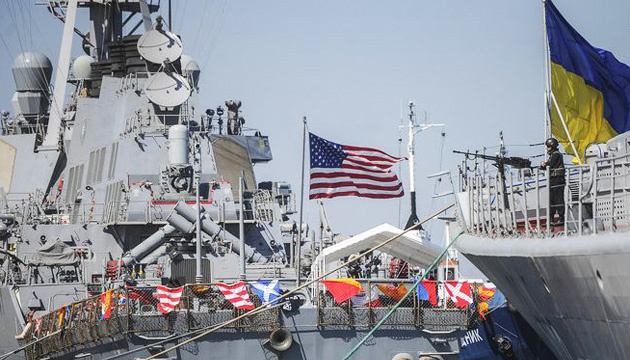 Over 60 nations, int'l organizations invited to this year's Sea Breeze drill
During the Sea Breeze exercise in 2022, Ukrainian border guards will train alongside other security forces of Ukraine, those of NATO Allies and partners in the sea, air, and land components.
This was discussed in Odesa at a planning conference for this year's Ukrainian-American Sea Breeze military exercise, Ukrinform reports with reference to the State Border Guard Service of Ukraine.
The agency's rapid response unit and the Dozor high mobility team will be involved in anti-aircraft and anti-sabotage operations.
This year, the Coast Guard will be represented by nine vessels and spec-ops units.
Ships and boats operated by Ukraine's coast guards, as part of international and interagency tactical groups, will monitor civilian navigation, fire artillery, work out offensive and defensive missions, including a vessel's anti-sabotage defense and air defense measures. Rescue missions will also be practiced, as well as measures to locate a violator vessel, joint inspections as part of anti-migration work, and many other components.
The Izmail detachment of the coast guards will participate in exercises on the Dnipro River (last year it was the Danube).
Coast guards' special forces will traditionally be engaged in diving and anti-sabotage components and work out a wide range of actions, from airborne insertion using helicopters to location of hazardous underwater objects, their salvaging, and disposal.
The border guards noted that the Sea Breeze is constantly expanding in terms of components and participants. Last year's exercises were the largest in more than 20 years. They involved 32 vessels, 40 aircraft, and 5,000 troops representing 17 NATO allies and partners.
More than 60 nations and international organizations have been invited to participate in this year's training, the ministry said.
The next planning conference will take place in March 2022.
im