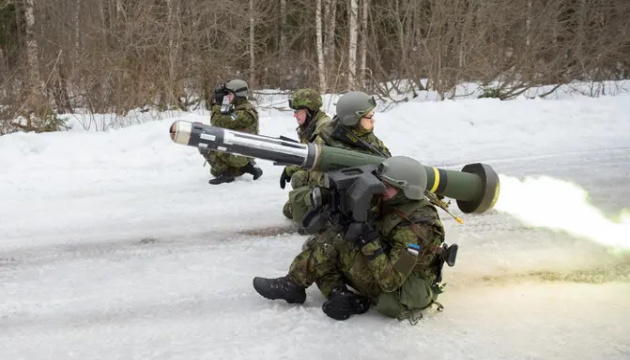 Estonia plans to provide Javelin missiles, howitzers to Ukraine
The Estonian Ministry of Defense is considering providing Ukraine with anti-tank weapons, Javelin missiles and 122mm howitzers, the national television and radio station ERR has said.
Prior to the final decision, permission must be obtained from the United States, the country of origin of the missiles, and from Finland and Germany, the former owners of the howitzers, the report said.
"In principle, Estonia has made a decision in its Ministry of Defense that our wish is to support Ukraine with armaments and ammunition in the current difficult security situation. […] The things we are currently considering or working on are the Javelin missiles for the anti-tank missile systems, and we are considering or planning to provide 122mm howitzers and ammunition for them," Peeter Kuimet, Head of the International Cooperation Department of the Ministry of Defense, told ERR.
At the same time, he said that providing defensive lethal assistance is not that easy. Before delivering Javelin missiles, it is necessary to obtain permission from the United States as a manufacturer. "In the case of howitzers, we have received them from Finland, which in turn has received them from Germany. We have to ask Germany and Finland for consent to transfer the arms," Kuimet said.
He specified that Estonia is constantly getting more Javelin missiles, "which over the years means that at some point some of the kits will start to age quietly, so to speak." The shelf life of the Javelin rocket is a little over ten years. After that, the missile should be disarmed or money spent on updating it. Kuimet said that if the missiles are not given away now, they would be used for training in the coming years.
Estonia also plans to increase other aid to Ukraine. Last year, before the situation on Ukraine's borders worsened, the Estonian Ministry of Defense launched a joint project with Germany. It is planned to build a mobile field hospital complex for the Ukrainian defense forces. The role of the Estonian Defense Forces and the Ministry of Defense will be to coordinate the project and train Ukrainian military medics to work with this complex. Germany plans to allocate the money for the project. The implementation of this project is planned for February.
"We currently hold annual English-language courses for Ukrainian special forces at the Defense Forces Academy. Estonia, as well as the other Baltic states, and Denmark sponsor the study of Ukrainian students at the Baltic Defense College. We are ready to double the number of students sponsored in these projects next year if the Ukrainians need it at all," Kuimet said.
He recalled that such cooperation is also useful for the Estonian military, because thanks to the experience of Ukrainians, they get "a more immediate picture of what a conflict or a battle picture looks like with the Russian Federation or the units it supports."
Photo: Ardi Hallismaa
op