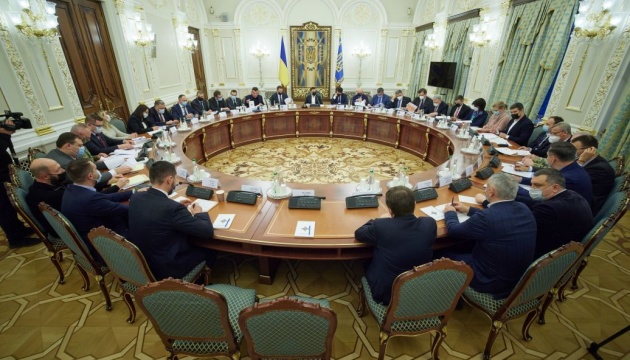 Defense plan, cybersecurity, weapons: Danilov on latest NSDC meeting agenda
The National Security and Defense Council of Ukraine, chaired by President of Ukraine Volodymyr Zelensky, discussed priority measures to ensure national security against internal and external threats.
A total of 21 issues were on the agenda, NSDC Secretary Oleksiy Danilov told a Kyiv briefing following the meeting, Ukrinform reports.
Among those were conclusions on the assessment of the latest developments around the country's border. In addition, the NSDC considered mechanisms for implementing the National Defense Plan.
"For the first time in 30 years, our country's Defense Plan, Total Defense, has been adopted. Previously it was only the military that dealt with the issue, but today this plan has become more detailed as many more agencies and organizations are engaged in defense," Danilov said, recalling that the law on the foundations of national resistance will come into force on January 1, 2022.
The NSDC also approved an action plan to implement the Cyber ​​Security Strategy.
Among other things, security officials focused on the implementation of earlier decisions on sanctions against major smugglers. "Sanctions do work," Danilov said, noting that as a result of their application, the budget received an additional UAH 71 billion.
The "road map" for the implementation of the so-called law on oligarchs has also been discussed, the NSDC secretary noted.
Danilov suggested that the NSDC could start formally designating certain moguls as "oligarchs" as early as late May.
Yesterday's meeting also approved a number of protocol decisions, including on housing of military servicemen and veterans; resolving within a month the issue of equalizing military servicemen's allowances; issues of synchronizing sanctions with partners in case Ukrainian nationals are designated; and instructing the government to establish an interagency working group to audit arms, hardware, and food supplies to the Army for the past five years.
As Ukrinform reported earlier, Danilov presented a report on the NSDC performance in 2021. The body held a total of 36 meetings, at which 150 issues were considered and nearly 90 decisions were adopted and implemented by presidential decrees.
This is the largest number of meetings convened within a year since the country regained independence in 1991.
im