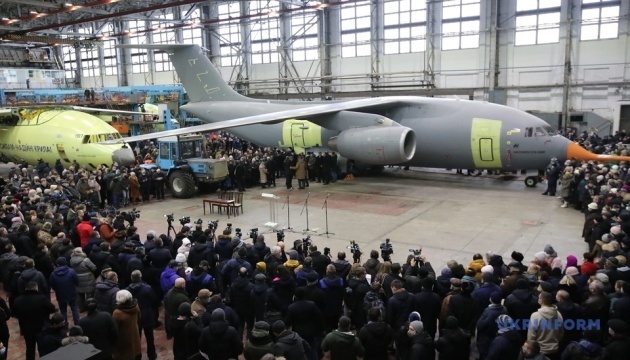 An-178-100P aircraft presented in Kyiv
The first military transport aircraft An-178-100P has been presented at the Antonov state enterprise in Kyiv.
Events marking the rollout of the aircraft took place on Tuesday, December 28, according to an Ukrinform correspondent.
Inspecting the plane, Defense Minister Oleksiy Reznikov noted that with the creation of the An-178-100P, Ukraine proves that Ukrainians know how to defend themselves.
"All of us in our childhood dreamed of being pilots, flying, but the most difficult thing is to build a plane. It seems to me that it is symbolic that Ukraine is demonstrating its defense capabilities through joint efforts. This synergy is the key to our victory," the minister said.
He stressed that not only three of these planes will be produced, as stipulated in the contract for the Ukrainian Armed Forces. There will be more of them," Reznikov said.
"Today we are demonstrating that we know how to build, we know how to fly and we know how to defend ourselves," he said.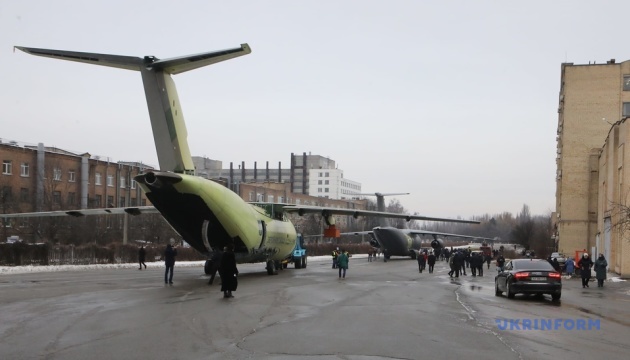 For his part, Deputy Commander-in-Chief of the Ukrainian Armed Forces, Lieutenant General Serhiy Moisiuk, noted that the Ukrainian army needs modern, high-tech, reliable and easy-to-use military equipment.
"After all, this equipment increases our capabilities, increases our resilience and brings us closer to victory. This aircraft is a representative of the equipment we need. I am confident that this aircraft will be delivered to the Ukrainian Armed Forces on time and Ukrainian Air Force pilots will be using it for the benefit of our victory," he said.
Commander of the Ukrainian Air Force, Lieutenant General Mykola Oleshchuk, said that the Air Force is ready to receive the first aircraft over the period of Ukraine's independence - An-178-100P.
"We still have a difficult way to go - to train pilots for this aircraft, we need to train engineering and technical staff so that we can master, repair and perform tasks," he added, assuring that this path will be overcome quickly.
Serhiy Bychkov, General Director of Antonov, said during the demonstration of the aircraft that the rollout of the first military transport aircraft An-178-100P, which is intended for flight certification tests, is a landmark event and another step towards providing the Ukrainian Armed Forces with modern aircraft.
The aircraft is designed primarily for transporting people (up to 100 people), equipment, cargo, paratroopers (up to 86 people), as well as medical evacuation of the wounded and injured (up to 40 people on standard stretchers, 38 people in side seats accompanied by health workers).
op