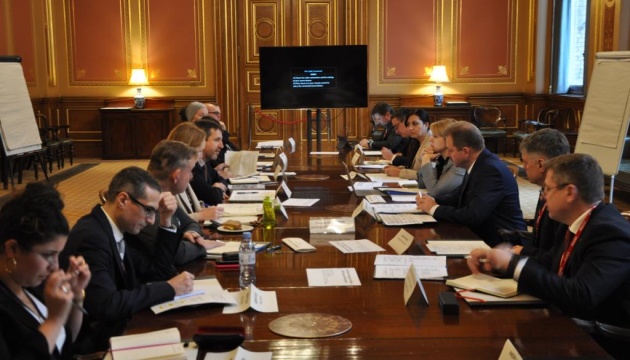 Britain to help Ukraine combat illegal migration
The United Kingdom has reaffirmed its readiness to help the Ukrainian Interior Ministry combat illegal migration, the ministry's press service has reported.
According to the report, Ukraine's Deputy Interior Minister Meri Akopian said this after a meeting on defense and security as part of the UK-Ukraine Strategic Dialogue.
"We are aware of the responsibility placed on the Government of Ukraine and the Interior Ministry - when Europe is being blackmailed by the manufactured migration crisis on the Polish-Belarusian border. Our work is aimed at protecting and securing the EU's external borders," Akopian said.
She informed her British colleagues about measures the Ukrainian Interior Ministry is taking to eliminate new hybrid threats to national security, and about ways to fortify the Ukrainian-Belarusian section of the state border, including the development of an "intellectual border" and the involvement of international partners.
"Currently, the situation on the border with the Republic of Belarus is fully under control, but we understand that escalation is possible if the flow of illegal migrants is redirected and they begin to break through Ukraine's frontiers. Therefore, it is time to unite our efforts and jointly counter these threats. The British side has reaffirmed its readiness to help the Ukrainian Interior Ministry fortify borders and combat illegal migration," Akopian said.
Photo credit: mvs.gov.ua