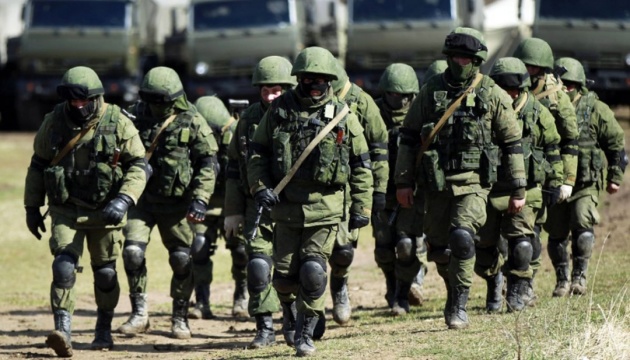 Some 92,000 Russian forces amassed near Ukraine borders - military intel chief
Russia has amassed over 92,000 forces near Ukraine's borders, preparing for an offensive that could launch late January-early February 2022.
That's according to the head of the Main Intelligence Directorate at the Ministry of Defense (GUR), Brigadier General Kyrylo Budanov, who spoke with Military Times, Ukrinform reports.
According to Budanov, the attack is likely to involve airstrikes, artillery and armor attacks before Russia moves in with airborne and amphibious assaults, including in Odesa and Mariupol, as well as a smaller-scale incursion via Belarus which neighbors Ukraine in the north.
The head of the military intelligence agency says Russia's large-scale Zapad (West - ed.) 2021 military exercises have proved that Moscow can simultaneously deploy more than 3,500 airborne and special operations troops.
According to Budanov, the attack being plotted by Moscow would be much more devastating than any other operation on the part of Russia since the onset of armed aggression against Ukraine in 2014.
The GUR chief also noted that frigid weather in January-February would not be an obstacle to the offensive. "It is no problem for us and the Russians," Budanov said.
He said Russia was increasing its potential for attack by increasing the number of troops and weapons systems in the occupied Crimea and deploying Iskander short-range ballistic missile systems and other arms near the border with Ukraine.
The head of the military intelligence also noted that such attacks are preceded by a number of psychological operations that Moscow is already conducting to destabilize Ukraine from within and undermine its ability to defend itself. These efforts, intelligence says, include fomenting unrest through protests against Covid vaccination and riots related to the economy and energy supplies. In addition, Moscow is trying to raise anti-government sentiment in Ukraine through the so-called Wagnergate case – allegations of treason or grave incompetence on the part of state leadership that allegedly botched an elaborate operation by intelligence and security agencies aimed to nab several dozen mercenaries with the notorious Wagner PMC who would then be prosecuted for war crimes committed in Donbas.
"They (Russians - ed.) want to ignite riots through protests and demonstrations that would show that people are against the government," Budanov said.
According to the GUR head, the ongoing crisis on the border between Poland and Belarus is also part of Moscow's wider-scale destabilizing efforts.
As previously reported, Prime Minister Denys Shmyhal of Ukraine in an interview with RFE/RL said that the situation regarding the possible escalation of hostilities against Ukraine is being constantly monitored. He added that the situation on Ukraine's border with Russia due to the amassing of Russian troops remains "tense, but we see no signs of an (upcoming - ed.) offensive."
According to the Financial Times, Western intelligence sources said there Russia's move to destabilize Ukraine is highly likely this winter after Moscow deployed more than 90,000 troops to the border with Ukraine.
Dmitry Peskov, a spokesman for the Russian president, speaking on the air of one of Russia's propaganda TV channels, commented on the reports of Russia preparations for invading Ukraine. Quoted by Interfax, Peskov decried allegations, claiming "artificial hysteria" and speaking of "provocation" Ukraine could stage.