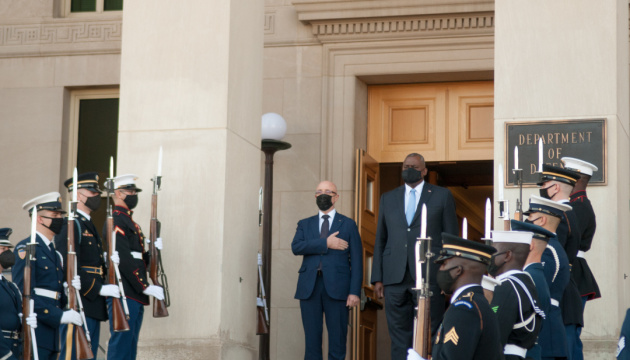 Reznikov: Ukraine, United States share assessment of risks and threats from Russia
Ukraine and the United States are in intensive contact over the aggravation of the security situation on the eastern and southern borders of Ukraine and share views and assessments of the situation.
"Our defense agencies, our intelligence are in constant contact on security issues. Currently, we share an assessment of the risks and threats that are concentrated around Ukraine on the eastern and southern borders," Minister of Defense of Ukraine Oleksiy Reznikov said during a meeting with Pentagon chief Lloyd Austin on Thursday, an Ukrinform correspondent reported.
He stressed that the hybrid attack on Poland and Lithuania with the help of migrants, as well as the build-up of Russian troops near the Ukrainian border, was another proof of the direct danger to Europe.
"Ukraine has been deterring this threat for eight years now, and we are very grateful that our American partners have drawn attention to Russia's latest military preparations. And it is the signal from the United States that gives hope that the civilized world will unite and stop the aggressor," the minister said.
Reznikov underscored that one of his priorities at the helm of the Ministry of Defense of Ukraine is the comprehensive development of cooperation with the United States, including through the filling of the framework agreement on the strategic foundations of defense partnership with specific projects, as well as other agreements.
"During this visit, I want to inform the colleagues of the main areas of work outlined by our team. It is very important to achieve synergy and compatibility in the defense sector," the Ukrainian defense minister noted.
He stressed that the Russian aggressor used hybrid types of attacks and types of weapons, "and it will never stop if it is not repulsed."
Reznikov thanked the American people for their support for Ukraine, especially in the current conditions of Russian aggression.
As reported, Minister of Defense of Ukraine Oleksiy Reznikov and U.S. Secretary of Defense Lloyd Austin met at the Pentagon on Thursday to discuss, in particular, issues of bilateral security and defense cooperation.
ol