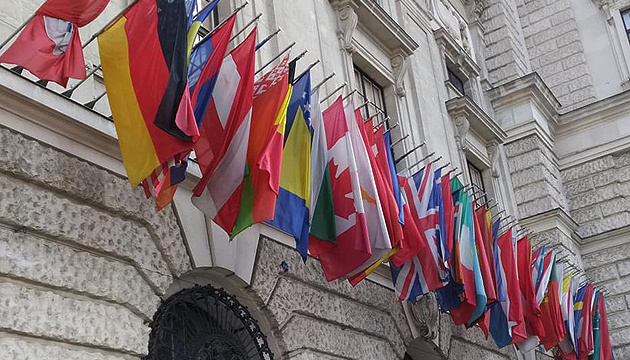 Ukraine at OSCE: Russia shows readiness to invade
The latest buildup of Russian troops near the Russo-Ukrainian state border suggests that the Kremlin is mulling various options, including a potential military invasion of Ukraine.
That's according to a statement by Ukraine's Mission to the OSCE voiced during a meeting of the OSCE Forum for Security Co-operation in Vienna on Wednesday, Ukrinform's own correspondent reported.
This is "more than just a military buildup," the Ukrainian delegation said, adding that there is deterioration in terms of Russia's demonstration of readiness to deploy troops and equipment along the Ukrainian border, as well as in terms of Russian leadership considering various options, including a potential military invasion of Ukraine.
It was pointed out that after completing in the second half of 2021 their large-scale exercises near the state border of Ukraine, Russia only claimed they withdrew their forces from the border areas.
It was only the servicemen who returned to their bases, the Ukrainian delegation stressed, adding that military hardware, such as tanks, armored vehicles, and Iskander missile systems, remained near the Ukrainian border.
Delegations of the OSCE participating States were informed that Russia had so far deployed more than 92,000 troops in areas close to the border with Ukraine.
Not only is Russia demonstrating military aggression, Russia's military exercises, energy crisis in Europe, and the use of migrants as weapons on Belarus's border with Poland and Lithuania should be seen as elements of Russia's hybrid war against Europe and the Euro-Atlantic community, the Ukrainian delegation stressed.
They also reaffirmed Ukraine's firm commitment to peace and security in Europe and their country's readiness to jointly defend principles that are fundamental for Ukraine and the Euro-Atlantic community.
As Ukrinform reported earlier, The Washington Post on October 30 broke the news on the buildup of Russian troops on the border with Ukraine. Citing sources in the United States and the EU, the newspaper wrote that some unusual movement of equipment and forces was recorded on Russia's western flank. The publication also referred to videos posted on the internet showing Russian trains and convoys transporting military hardware to the country's southern and western regions. Politico wrote that the photos were taken by Maxar Technologies on November 1.
In addition, citing data from the British publication Jane's, which specializes in military issues, the newspaper reported that the military hardware of Russia's 4th Panzer Division was being moved closer to the border with Ukraine, to the areas near the cities of Kursk and Bryansk.
According to the Financial Times, Western intelligence officials said Russia was highly likely to go for another round of destabilization in Ukraine this winter after Moscow amassed more than 90,000 troops near its border.
im