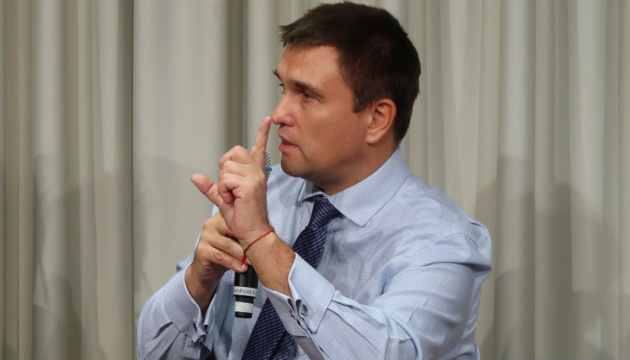 Ukraine should be ready for escalation by Russia – ex-foreign minister
Foreign Minister Pavlo Klimkin believes there is no immediate threat of a massive Russian invasion, while Ukraine needs to brace for a possible escalation and Vladimir Putin's moves to raise stakes in his geopolitical game.
The comment came as Klimkin was speaking at a panel show on ICTV Monday, an Ukrinform correspondent reports.
"I definitely want to trust our intelligence, honestly, but The Washington Post is a sophisticated newspaper, it has sources in the Biden administration. If they print something, they never make it up, and we understand that perfectly well. Yes, we're aware that there are no big movements there today (near the border of Ukraine - ed.) which will lead to a massive invasion tomorrow or the day after tomorrow," Klimkin said.
The former top diplomat believes even the Kremlin realizes that a blitzkrieg against Ukraine is impossible as neither the international nor domestic audiences will "buy it."
At the same time, Klimkin noted that multiple expert platforms today discuss behind closed doors what will happen if China soon tries to establish control over Taiwan. If this, experts believe, Putin will have a chance to try to gain control over the part of Ukraine Russians refer to as "Novorossia."
"Therefore, of course, there is no threat that will be realized tomorrow or the day after tomorrow – this must be articulated honestly – so there is no need to panic. But we must be ready for a stake raise, for the escalation. It's not about being anxious or panicking about tomorrow or the day after tomorrow, it's about calmly preparing ... Today, there are two basic ways for us to ensure our security: the first is our will, our fighting spirit, the will to build the minimum required asymmetric potential, and the second is our partners," the former foreign minister concluded.
As Ukrinform reported earlier, on October 31, The Washington Post reported that the Russian military was once again massing forces and hardware along Ukraine's borders.
On November 1, the Main Intelligence Directorate of Ukraine's Ministry of Defense said it recorded no additional movement of Russian units, weapons, and military hardware to the Ukrainian border, adding that the report on such deployments could be an element of a psy-op.