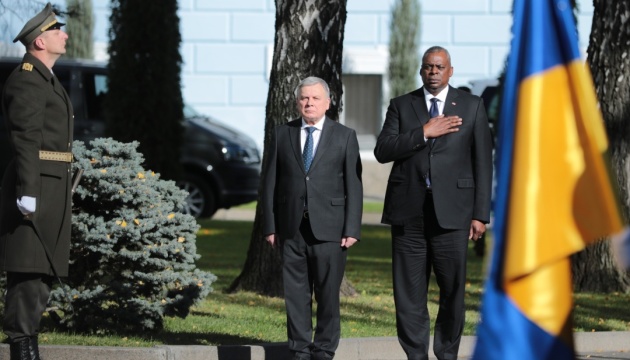 U.S. will strengthen strategic defense partnership with Ukraine – Austin
The United States intends to strengthen its strategic defense partnership with Ukraine, according to U.S. Secretary of Defense Lloyd Austin.
He said this at a joint briefing with Ukrainian Defense Minister Andrii Taran in Kyiv on Tuesday, October 19, according to an Ukrinform correspondent.
Austin said that he met with Taran a few weeks ago at the Pentagon and today they had a productive discussion on the U.S.-Ukraine Strategic Defense Framework that they signed in Washington in August. He said the U.S. and Ukraine intended to strengthen their strategic partnership.
In this context, he recalled that during President Volodymyr Zelensky's visit to Washington, President Joe Biden noted that U.S. support for Ukraine's sovereignty is unwavering.
The United States condemns the occupation of Crimea and calls on Russia to end the war in eastern Ukraine, to end destabilizing actions in the Black Sea and along its border with Ukraine, and to stop cyberattacks against the United States and its allies and partners, Austin said.
He also recalled that the United States has allocated more than $2.5 billion since 2014 to strengthen the Ukrainian Armed Forces and ensure the protection of the territorial integrity and sovereignty of Ukraine.
op