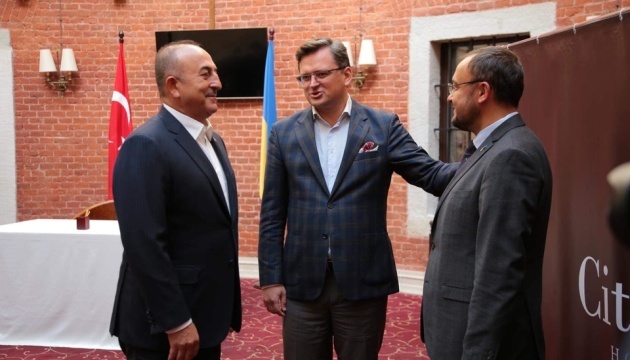 Kuleba: All obstacles to production of Bayraktar drones in Ukraine removed
All obstacles to the production of Turkish armed drones Bayraktar TB2 in Ukraine have been removed, according to Ukrainian Foreign Minister Dmytro Kuleba.
He said this at a briefing following his talks with Turkish Foreign Minister Mevlut Cavusoglu in Lviv on October 7, an Ukrinform correspondent reports.
"As for the construction of Bayraktar drones in Ukraine, I believe that this project has already been implemented in Ukraine, because it enjoys the political patronage of both presidents. There were a number of obstacles to its implementation, but they have all been removed," he said.
Kuleba noted that a plot of land for a drone construction plant has already been allotted.
"That's why politicians have done their job, and now businesses should launch production," he said.
Ukraine's Defense Ministry and Turkey's Baykar Savunma signed a memorandum of cooperation on September 29.
According to the document, Bayraktar will build a maintenance and modernization center for the company's unmanned aerial vehicles on a plot of land, owned by the Ukrainian Defense Ministry, near Vasylkiv, Kyiv region. The center will also train personnel who will operate UAVs. A number of such centers will be built in Ukraine later.
op