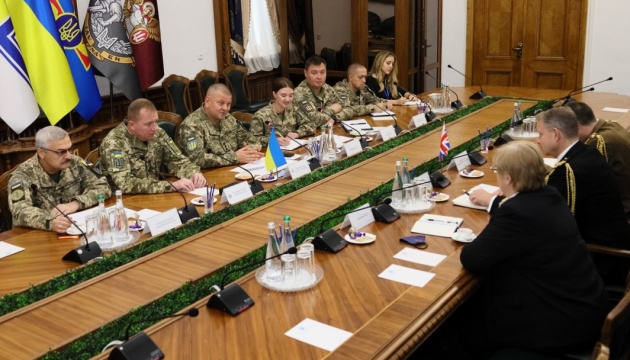 Ukrainian, British defense officials discuss prospects for bilateral cooperation
Commander-in-Chief of the Ukrainian Armed Forces Valeriy Zaluzhny has met with British Defense Attaché in Ukraine, Commodore Tim Woods and invited him to the active phase of the Strategic Command and Staff Exercise Joint Endeavour 2021, the General Staff of the Ukrainian Armed Forces has reported on Facebook.
According to the report, Zaluzhny expressed his respect for and deep gratitude to the United Kingdom for its principled position, political, diplomatic, financial and economic support, advisory and logistical assistance the British side is providing to Ukraine and its armed forces.
Zaluzhny stressed that "deterring Russia's armed aggression, continuing comprehensive reform of the Ukrainian army in order to increase the defense capabilities of our state and achieving the required level of interoperability with the armed forces of our partners remains the main task of the Ukrainian Armed Forces."
He stressed that he was looking forward to meeting with Woods next week during the active phase of Exercise Joint Endeavour 2021.
At the end of the meeting, Woods said that all Ukraine is doing is not only the defense of its own territory, but also the defense of Europe and NATO.
Earlier reports said that Ukrainian-U.S. military exercises Rapid Trident 2021 kicked off on September 20 and will last until October 1, 2021. Some 6,000 troops from 15 partner countries will take part in the drills.
op