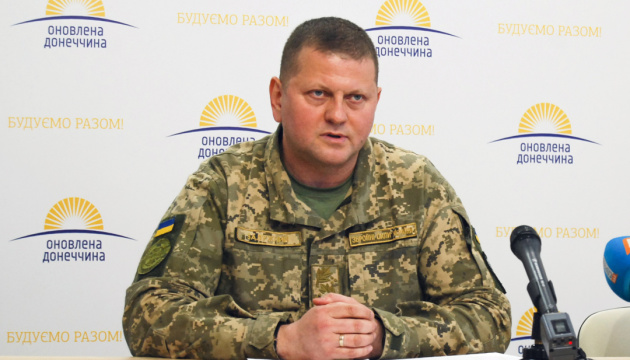 Ukraine Army's commander-in-chief: Threat of Russian provocations at border growing, mostly in Donbas
The number of Russian troops on the border with Ukraine has not changed significantly today, while at the same time there has been an increase in battalion tactical groups along the entire border of Ukraine amid the Russian-Belarusian West 2021 exercise.
That's according to the Commander-in-Chief of the Armed Forces of Ukraine, Lieutenant General Valery Zaluzhny, who answered Ukrinform's question on how the number of Russian troops on the border with Ukraine has changed since May.
"I can't say that it has changed for the worse. The Russian Federation and the Republic of Belarus are conducting a scheduled event, which they have openly announced. In accordance with their plan for the exercises, there has been a certain increase in battalion tactical groups along the entire state border, as well as in Belarus. We're monitoring all of them and preparing, accordingly, to respond adequately," the commander-in-chief said.
Answering Ukrinform's questions about the areas where enemy provocations are most possible, Zaluzhny said: "We expect provocations everywhere, and especially in the Joint Forces ​​Operation zone. Yes, of course, they are possible. Why? Because the enemy uses any pretext, any means to show their influence. Therefore, we are expecting them everywhere and will be ready to respond wherever possible."
At the same time, he assured that the war in Ukraine has been going on for seven years already so the defenses at the borders, including the northern ones, have long been strengthened.
As Ukrinform reported earlier, Russian and Belarusian military on Friday morning began the practical part of the Zapad (West) 2021 joint strategic exercise.
The spatial scope of the drills is more than 2,000 kilometers – from the Baltic Sea in Kaliningrad region to training grounds in the Nizhny Novgorod and Voronezh regions (near the borders of Ukraine).
The practical part of the exercise started simultaneously at nine Russian training sites and in the Baltic Sea, as well as at five sites in Belarus. The exercises involve about 200,000 troops, more than 80 planes and helicopters, up to 760 units of military hardware, including more than 290 tanks, over 240 artillery units, rocket-propelled grenades and mortars, and up to 15 warships. Some 12,800 military are operating in Belarus, including up to 2,500 deployed Russian servicemen, more than 30 warplanes and helicopters, up to 350 units of military hardware, including about 140 tanks, up to 110 artillery units, MLR systems, and mortars.
At the same time, the Russian military claims that the maximum number of forces who are part of military units under a single operational command in Russia, covered by the Vienna Document of 2011 on confidence- and security-building measures, will not exceed 6,400.
The strategic exercise will last until September 16.
im