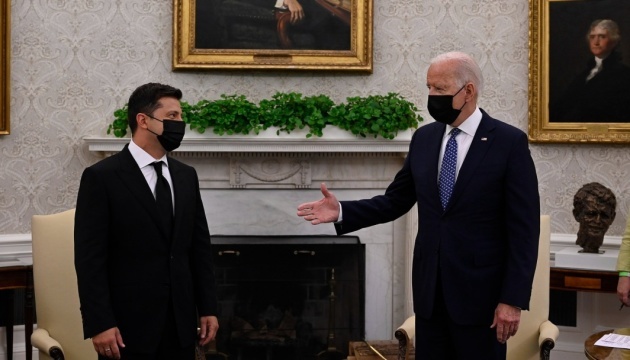 At talks with Biden, Zelensky proposes new format of Donbas settlement
President of Ukraine Volodymyr Zelensky has invited U.S. President Joe Biden to participate in the format of talks on settlement in eastern Ukraine at the presidential level.
The statement came as Zelensky was commenting to journalists on the outcome of talks with the U.S. president at the White House, an Ukrinform correspondent reports.
The Ukrainian president noted he had discussed in detail with Biden a number of security issues related to Russia's occupation of eastern Ukraine and the Crimean peninsula.
"As for Donbas, I have proposed that a new format be implemented at the presidential level," he said. "This is a new proposal for the United States, and they will think on which format to choose."
The president emphasized that this is about a new format of negotiations, other than the Normandy Four.
As reported, President of Ukraine Volodymyr Zelensky is on a working visit to the United States.
On Wednesday, Volodymyr Zelensky and Joe Biden talked for nearly two hours.
im