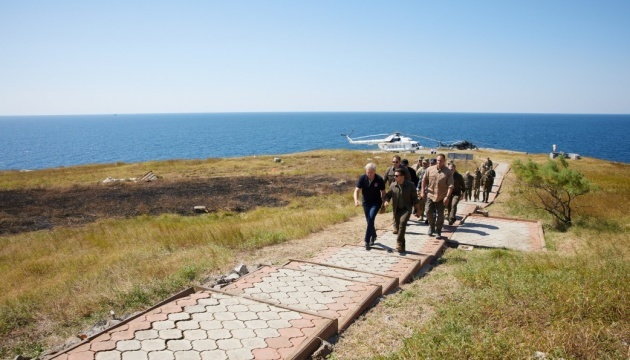 Zelensky flies to Zmiinyi Island to check combat readiness of Ukraine military
President of Ukraine Volodymyr Zelenskyi visited Zmiiny Island in the Black Sea and observed a drill where the troops worked out measures to defend the area against the seizure by a conventional enemy.
That's according to the President's website, Ukrinform reports.
Zelensky paid a visit to the strategically important island during a working trip to Mykolaiv and Odesa regions on Monday, August 9.
"During the exercise, Marines and special task forces, backed by aircraft and surface troops, worked out measures to strengthen protection and defenses of Zmiinyi Island. Ukrainian troops have successfully countered a conventional enemy naval landing effort, destroyed enemy vessels, and repulsed potential attempts by the aggressor to seize the Ukrainian island," the statement said.
Zelensky noted the importance of conducting such exercises, which he said took place at a "very high level."
"It is gratifying that these military exercises are also taking place on our Ukrainian island of Zmiinyi. They have never been held here at such a level. It shows that we do understand what time we live in and with whom we are fighting," the Ukrainian leader said.
The president has stressed that Ukraine has a powerful Army that is ready to defend the country, its statehood and sovereignty "in every part of the independent Ukrainian land."
As Ukrinform reported earlier, on August 9, Zelensky observed large-scale exercises in the Black Sea littoral Mykolaiv region.
im