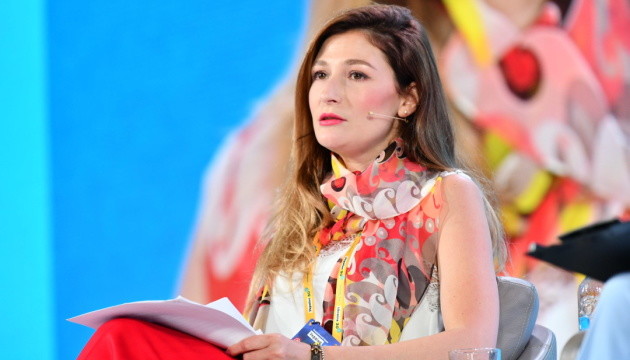 Dzheppar: More than 160 illegal prisons located in occupied Donetsk and Luhansk
According to the Prosecutor General's Office of Ukraine, there are more than 160 illegal prisons in occupied Donetsk and Luhansk, in which more than 3,500 Ukrainian citizens are held.
"As part of the 47th session of the Human Rights Council, together with the Permanent Mission of Ukraine to the UN, we held an online side event 'Izolyatsia' with the participation of UN Special Rapporteur on Torture Nils Melzer. The event is part of campaign 'Izolyatsia: Must Speak' launched in December last year by the Ministry of Foreign Affairs of Ukraine in cooperation with the Ukrainian Institute, the International Foundation Izolyatsia, and a former political prisoner, journalist Stanislav Aseyev who had been held in the Izolyatsia illegal prison in occupied Donetsk for 28 months," First Deputy Minister of Foreign Affairs of Ukraine Emine Dzheppar posted on Facebook.
Dzheppar noted that the aim of this campaign was to raise public awareness of the horrors currently taking place in the occupied territories of Ukraine, as well as to mobilize the international community to protect people from the impunity of the Russian occupiers and bring to justice those responsible for torture to restore respect for human rights human dignity in the occupied territories.
For the eighth year in a row, Russia has been committing crimes against Ukrainian citizens on a daily basis by resorting to torture and psychological pressure on illegally detained people both in the temporarily occupied territories of Ukraine and in the territory of the Russian Federation.
"The Izolyatsia illegal prison in the occupied city of Donetsk is a prime example of these horrors and identifies the true face of the Russian occupier. We can find out what happened in Izolyatsia from witnesses who went through the horror of being held in this illegal institution. One week ago, the English version of Stanislav Aseyev's book The Torture Camp on Paradise Street was presented with the support of the Embassy of Canada in Ukraine," Dzheppar informed.
"We must join forces to close all secret prisons in the occupied territories of Donetsk and Luhansk regions established by the Russian Federation. To demand that the Russian occupier provides unimpeded access for regional and international human rights organizations to all places of detention and to ensures full confidential communication with all detainees in the temporarily occupied territories," the First Deputy Minister of Foreign Affairs of Ukraine noted.
She reminded that the Russian occupation authorities had denied the UN Special Rapporteur on Torture full and unimpeded access to detention facilities in Donbas during his visit to Ukraine in 2018.
As the official emphasized, Ukraine will take all necessary measures to bring to justice all those guilty of these gross human rights violations, especially war crimes.
ol