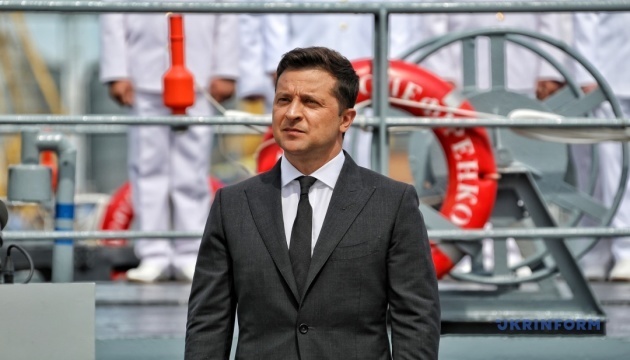 Sea Breeze 2021 demonstrates unity in countering threats posed by Russia – Zelensky
The Exercise Sea Breeze 2021 demonstrates the unity of Ukraine and partners in countering military threats that are intensifying in the Black Sea region due to Russia's aggressive actions.
President Volodymyr Zelensky said this during the celebrations on the occasion of the Day of the Navy of the Armed Forces of Ukraine, which took place in Odesa region on July 4, an Ukrinform correspondent reports.
"Sea Breeze 2021 demonstrates unity in confronting military threats beind increased in the Black Sea region due to its militarization and aggressive actions by the Russian Federation. This shows everyone that we will not allow the restriction of freedom of navigation in the Black Sea and usurpation of the sovereign right of Ukraine as a coastal state," Zelensky said.
According to him, this year's Sea Breeze is the largest one in its entire history.
"In addition to Ukraine and the United States, representatives of the United Kingdom, Turkey, Germany, France, Georgia, Romania, Bulgaria, Poland, Lithuania, Latvia, Estonia, Canada, Australia, Israel, Italy, Denmark, Sweden, UAE, Japan, and many other NATO and partner nations take part in this exercise," the head of state noted.
In his opinion, Sea Breeze is another test of Ukrainian sailors for compatibility with the best global fleets and a check on the quality of their actions as part of a multinational exercise.
As Ukrinform reported, on June 28, the Sea Breeze 2021 multinational maritime exercise, organized by the Ukrainian Navy and the U.S. Sixth Fleet, began in the Black Sea region. The exercise is taking place from June 28 to July 10 in the Black Sea region and focuses on multiple warfare areas including amphibious warfare, land maneuver warfare, diving operations, maritime interdiction operations, air defense, special operations integration, anti-submarine warfare, and search and rescue operations.
This year's iteration involves the largest number of participating nations in the exercise's history, including 32 countries from six continents, 5,000 troops, 32 ships, 40 aircraft, and 18 special operation and dive teams.
ish