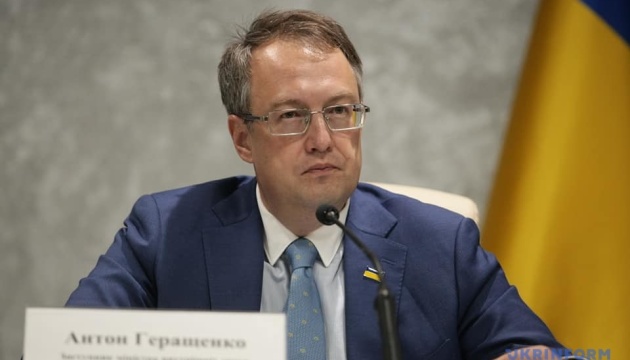 Russia trying to double number of its troops on border with Ukraine - Interior Ministry
Russia plans to legalize a large military contingent by trying to deploy 20 additional military units on its border with Europe, according to Ukraine's Deputy Interior Minister Anton Gerashchenko.
He said this at a press conference entitled "The Law on National Resistance: 5 Things without Which Territorial Defense Will Not Happen," according to an Ukrinform correspondent.
"Yesterday, Russian Defense Minister, Mr. [Sergei] Shoigu, stated that the leadership of the Russian Federation had made the decision to deploy 20 more military units in the European part of the Russian Federation, allegedly for resisting NATO. In fact, Russia will now legalize an increase in the number of its troops. That's what they did in March-April when they moved 70,000 or 80,000 troops from the Far East, from Siberia to the European part, which caused great concern in the world and increased the danger to Europe. In fact, now they want to secure this in order to more than double the number of their armed units on Ukraine's borders," Gerashchenko said.
Therefore, according to him, in order to strengthen its defense capabilities, Ukraine must adopt the law on national resistance and strengthen territorial defense forces as soon as possible.
"In order for the enemy, the Russian Federation, not to want to attack us, they must understand that the losses from such an attack will significantly exceed any political and economic bonuses that they would like to receive," Gerashchenko said, adding that the adoption of legislation regulating the issue of national resistance will strengthen the defense capabilities of the Ukrainian state.
On May 25, President Volodymyr Zelensky submitted to the Verkhovna Rada bill No. 5557 "On the Fundamentals of National Resistance." The document determines the legal and organizational principles of national resistance, the basics of its preparation and conduct, as well as the tasks and powers of the security and defense forces on national resistance.
On May 31, Russian Defense Minister Sergei Shoigu announced his intention to form about 20 new formations and units in the Western Military District of the Russian Federation, in addition to the existing forces, allegedly in response to NATO's actions.
op