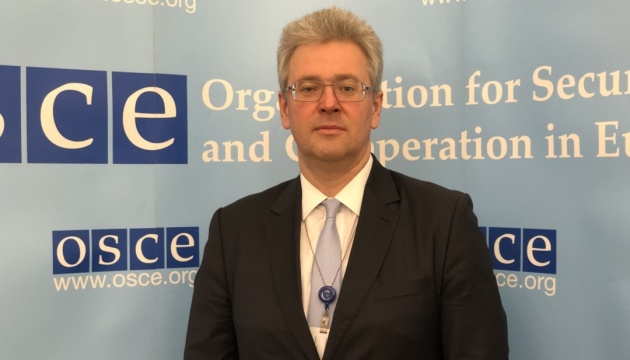 Ukraine tells OSCE about number of Russian troops on border and in Crimea
Russia continues to keep up to 100,000 servicemen, about 1,300 tanks, 3,700 armoured vehicles, up to 1,300 artillery systems, and 380 rocket systems along the border with Ukraine and in the temporarily occupied Crimea.
Yevhenii Tsymbaliuk, Permanent Representative of Ukraine to the International Organizations in Vienna, said this during an online meeting of the OSCE Permanent Council on Thursday, May 27, according to an Ukrinform correspondent.
"Russia has withdrawn only a tiny fraction of its forces deployed at Ukraine's border and in the temporarily occupied parts of its territory. Along the border and in Crimea, the Russian Federation keeps up to 100,000 servicemen; up to 1,300 tanks; up to 3,700 armoured vehicles; up to 1,300 artillery systems; and up to 380 rocket systems," he said.
In addition, the Russian occupation forces in Donbas, which are fully integrated into the Russian military command and control system, consist of more than 35,000 servicemen, including almost 3,000 regular representatives of the Russian Armed Forces.
Russia refuses to provide exact numbers, locations and scope of its unusual military activities, despite recommendations given by participating States under the Vienna document 2011. Until military transparency is ensured, Russia's plans remain unknown, and serious escalation can occur any time the Russian side would deem it appropriate.
Tsymbaliuk stressed that the buildup of Russian troops near Ukraine's border, along with other steps, testifies to "Russia's unchanged intention to fuel its armed conflict with Ukraine."
As reported, in early April, the Russian Federation amassed a group of about 110,000 troops near the eastern borders of Ukraine and in the occupied Crimea, raising concerns of the Ukrainian authorities and Western partners.
Later, Russia announced the withdrawal of its troops from Ukraine's borders under the pretext of "successful completion of exercises", but at the same time leaves its military presence and technical equipment near Ukraine's borders and in the temporarily occupied territories of eastern Ukraine and Crimea.
ish